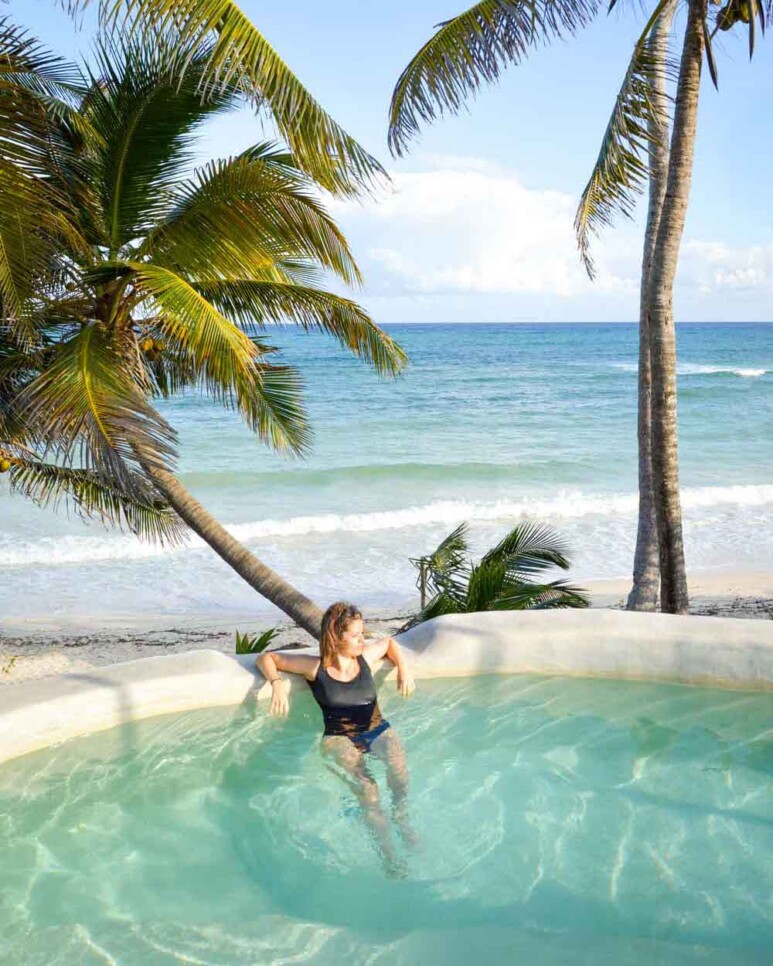 Disclaimer: This article contains affiliate links. Full disclosure here. As an Amazon Associate, we may earn a small commission when you use the links and make a purchase at no additional cost to you. All opinions are our own. Many thanks for supporting our website.
Vacation rentals and Tulum hotels with private plunge pools have become very popular and are a great add-on to the perfect Tulum beach vacation.
In our Best Tulum Pools Guide, we will show you some of the coolest Tulum hotels with private pools as well as amazing Tulum Airbnbs with private pools.
In addition to the private plunge pools, we also include our favorite Tulum rooftop pool and the most amazing infinity pools in Tulum Beach.
All of these vacation rentals and hotels are unique in their own way and will hopefully inspire you for your upcoming Tulum vacation.
Therefore, let's waste no time and get started.
Best Things To Do In Tulum, Mexico – Day Trips & Sights To See
Airbnb & Hotels In Tulum With Private Pool
Tulum Hotels With Private Pools
Cacao Tulum Hotel With Private Pool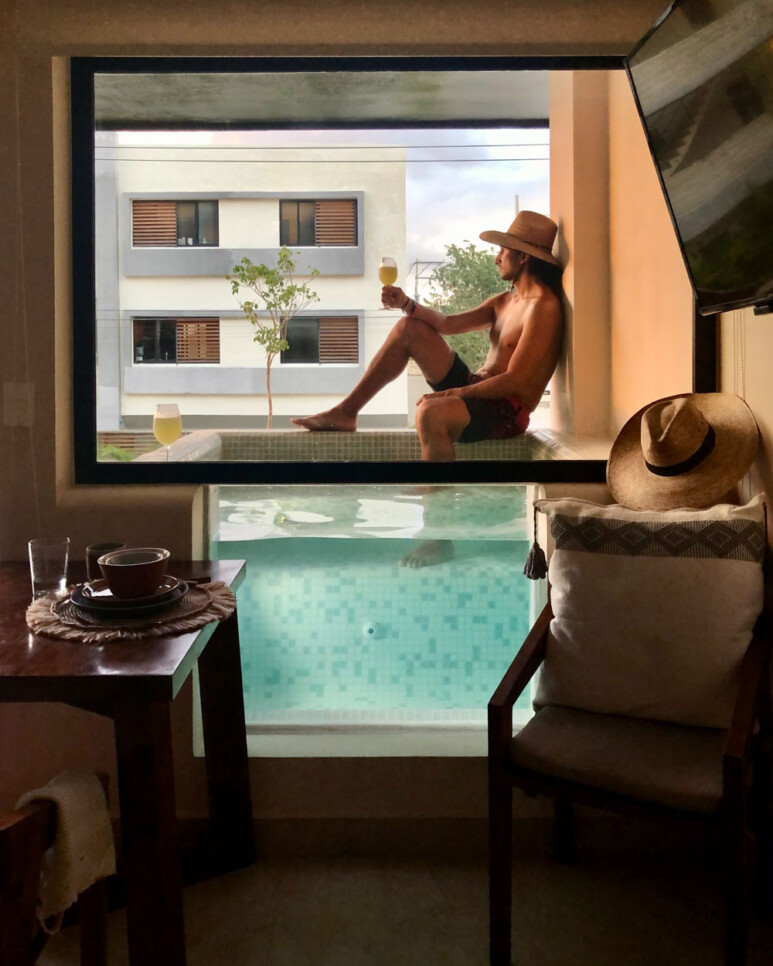 The aparthotel is super new, it just opened end of 2020 in La Veleta in Tulum. With its cool plunge pools in most of the rooms, Cacao Tulum has become one of the top hotels in Mexico with private pools.
Tulum Hotel With Private Pool In Room
At Cacao Tulum the term private plunge pool is taken to the next level. Their studios and 1-bedrooms feature a private plunge pool on the balcony that almost feels like an in-room plunge pool as it is only separated from the inside by a transparent wall.
Besides hotel rooms, there are also condos for sale which have similar private plunge pools.
To us, Cacao Tulum is one of the top Tulum hotels with private plunge pools, hands down.
Papaya Playa Project Tulum Resort With Private Pools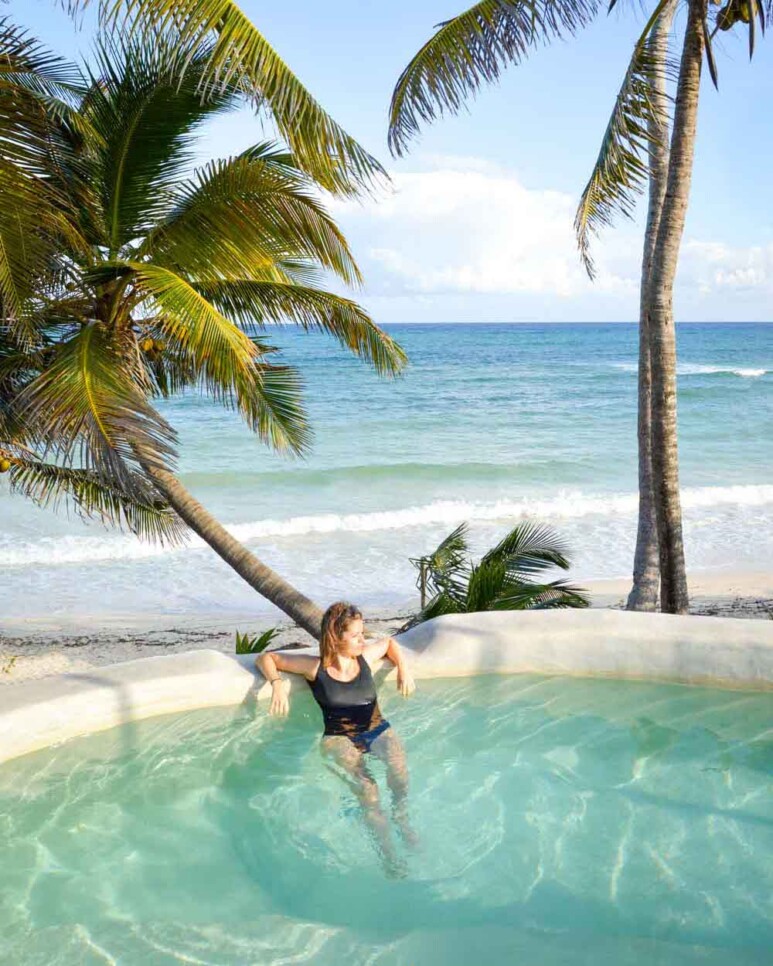 Another one of the top and most popular Tulum resorts with private pools is Papaya Playa Project. The PPP is also one of the oldest hotels in Tulum.
PPP – The Top Tulum Beach Hotel With Private Pools
Papaya Playa Project is one of the first Tulum hotels with private pools on the rooftops of their cabanas. You may have seen the famous drone photos.
Some of the casitas have their own private plunge pool next to the room as an outdoor type of bathroom and not on the rooftop. There are also some smaller plunge pools near the casitas that have amazing ocean views.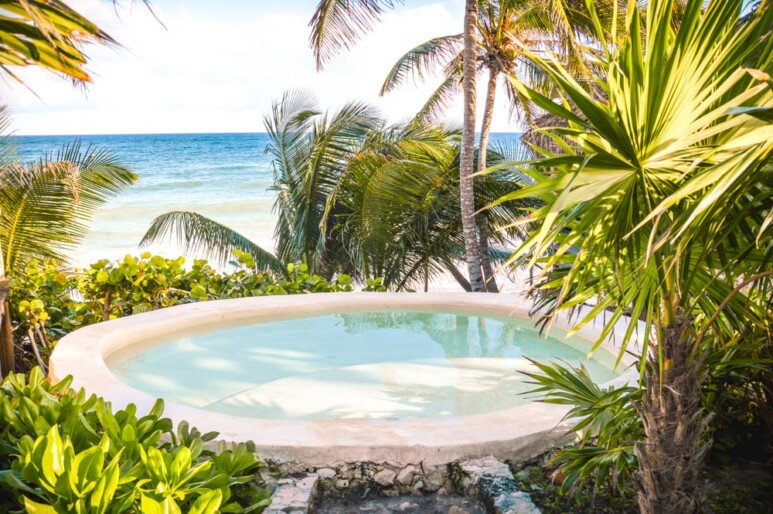 Tulum Villa With Private Pool
The villas at Papaya Playa feature plunge pools and bigger swimming pools. So if you are looking for a Tulum villa with a private pool that is on top of it all directly by the beach, check out the villas at the PPP.
More Top Hotels In Tulum With Private Pools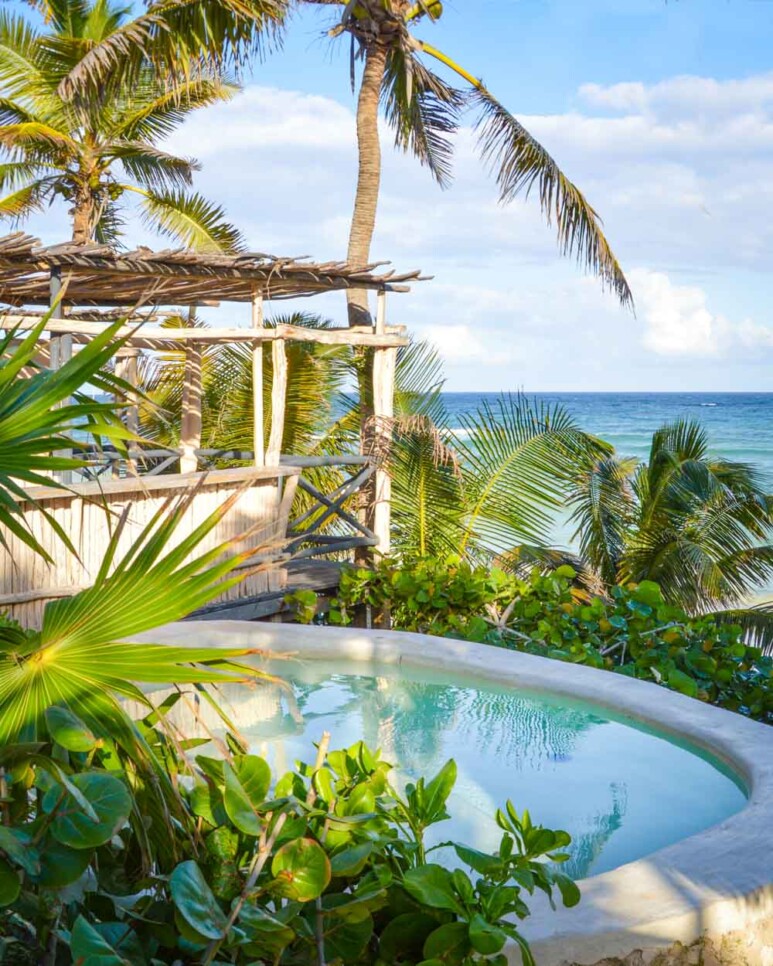 These top hotels in Tulum with private pools are located directly at the beach and have amazing rooms with a private plunge pool. Most of the hotels also have a common pool for everyone to use.
Tulum Beach Hotels With Private Pool
Due to the beachfront location, these are some of the best hotels with private pools in Mexico and therefore a lot more expensive than accommodations in Tulum town.
Read more: Surestay hotel by best western new braunfels
If you are on a budget check out the rentals in Tulum town at Aldea Zama and La Veleta areas which are listed at the bottom of this post.
For more affordable beachfront hotels in Tulum check out our post Where To Stay In Tulum Beach On A Budget.
Where To Stay In Tulum Beach On A Budget
Best Hotel Pools In Tulum
Best Infinity Pool In Tulum Beach:
Shambala Petit Hotel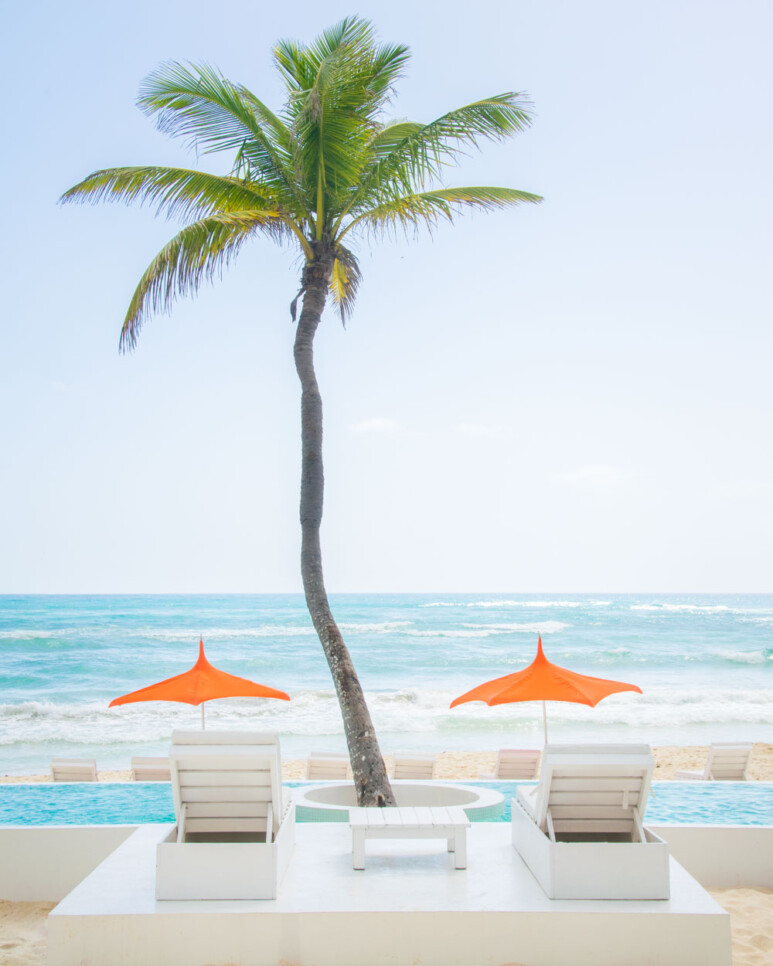 Shambala Petit is not a hotel with a private pool in Tulum, but we feel it is still worth mentioning since in our opinion it is the best pool in Tulum Beach.
Best Tulum Infinity Pool At The Beach
The pool is an infinity pool with a palm tree in the middle. How cool is that??? This is by far the best infinity pool at Tulum Beach.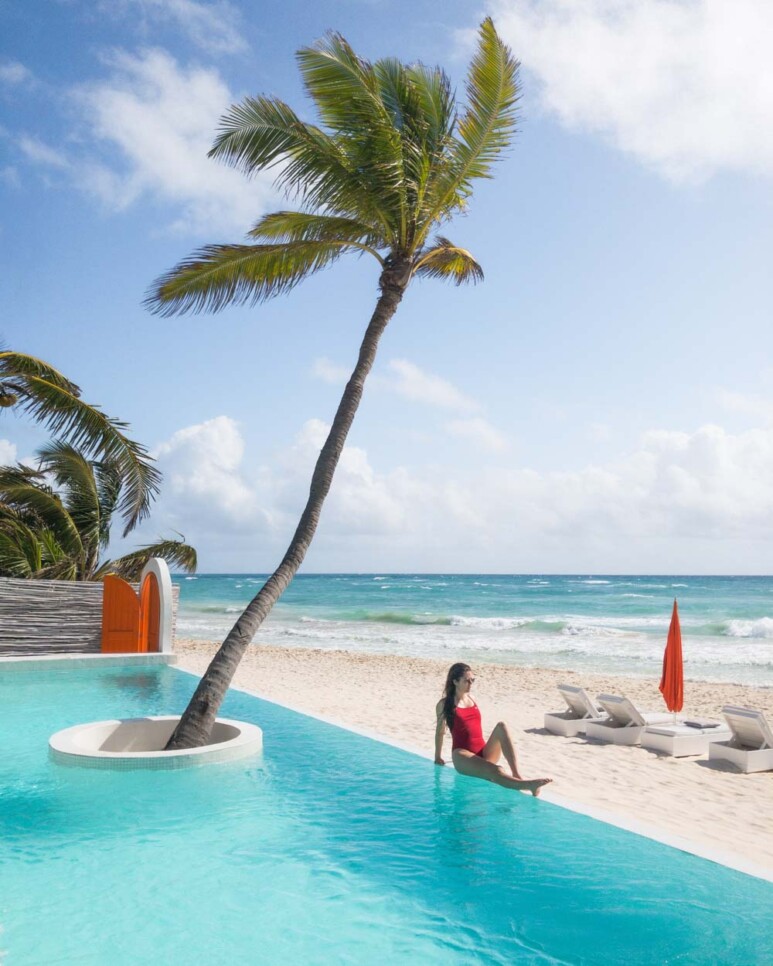 Semi Private Pool In Tulum
Even though it is not a private pool, the pool by the beach kind of was a private pool for us during our entire stay in Tulum.
Shambala Petit is a small boutique hotel with only a handful of rooms, so the infinity pool is only shared with a few other people, and lucky us we always had it to ourselves.
Review: Shambala Petit Boutique Hotel In Tulum
Best Rooftop Pool In Tulum:
Cacao Tulum Rooftop Pool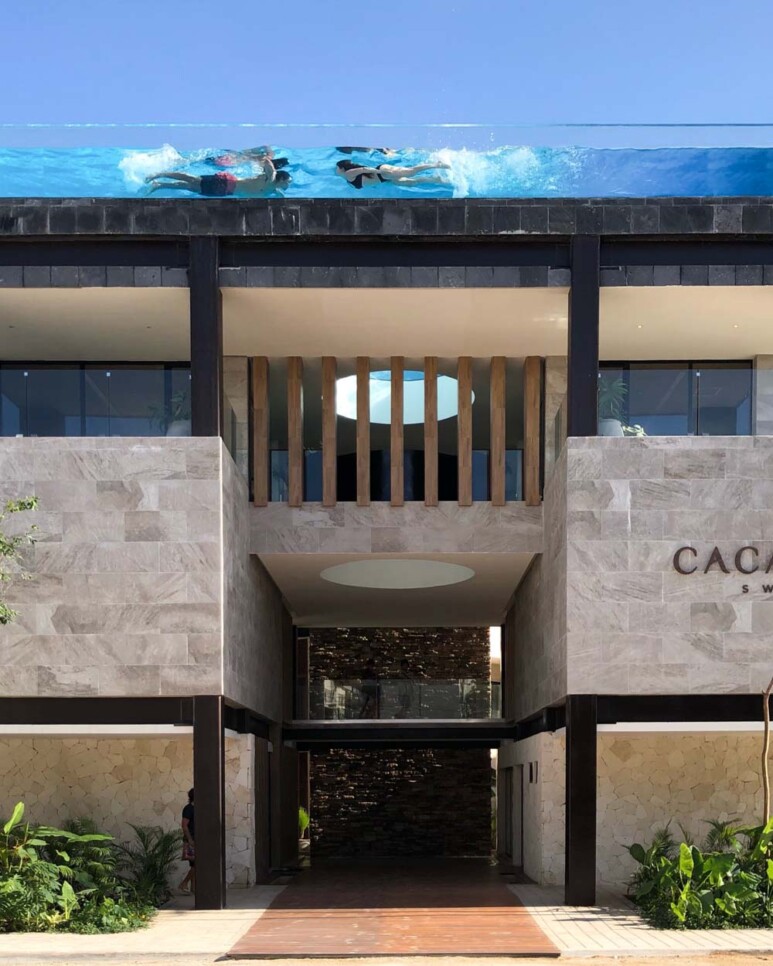 Best Tulum Rooftop Pool
On top of the probably most unique plunge pool in Tulum, Cacao Hotel features a rooftop pool with the same concept. This incredible Tulum rooftop pool has a glass wall on the front side of the hotel. You gotta see it yourself, it's pretty cool!
The rooftop pool also has this round glass bottom that you can look up to from below when entering the reception area of the hotel.
Cacao Hotel has definitely the best Tulum rooftop pool we have seen!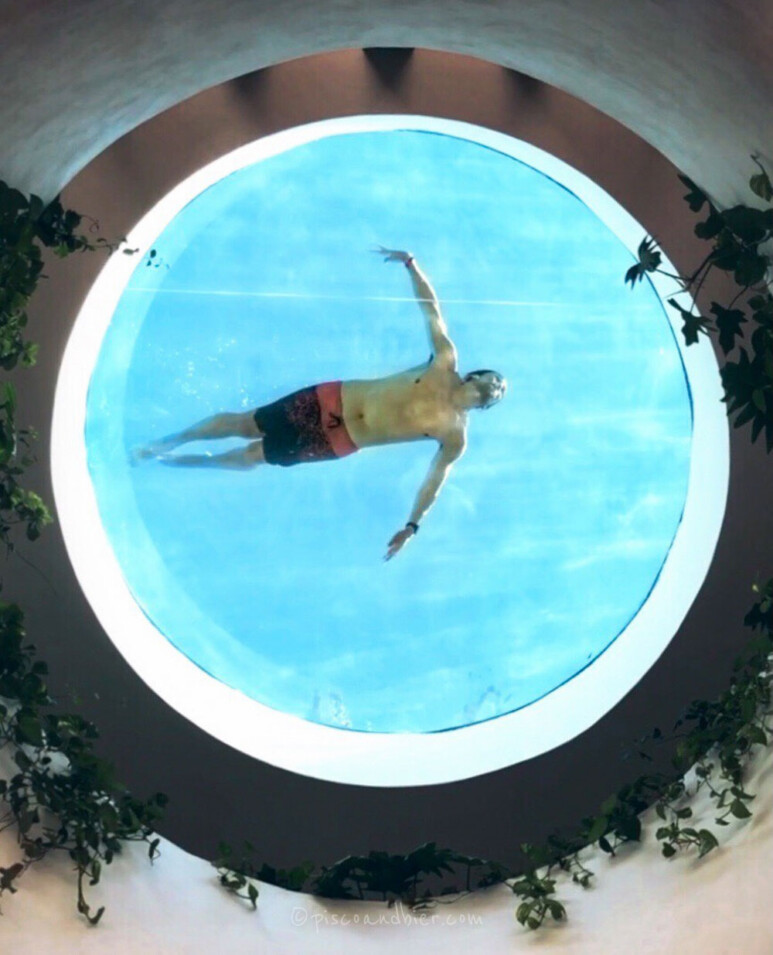 We enjoyed staying at Cacao Tulum. The unique private spa pool and the incredible rooftop pool are one of a kind in Tulum.
Most Unique Beach Club In Tulum With Pool:
Vagalume Tulum Beach Club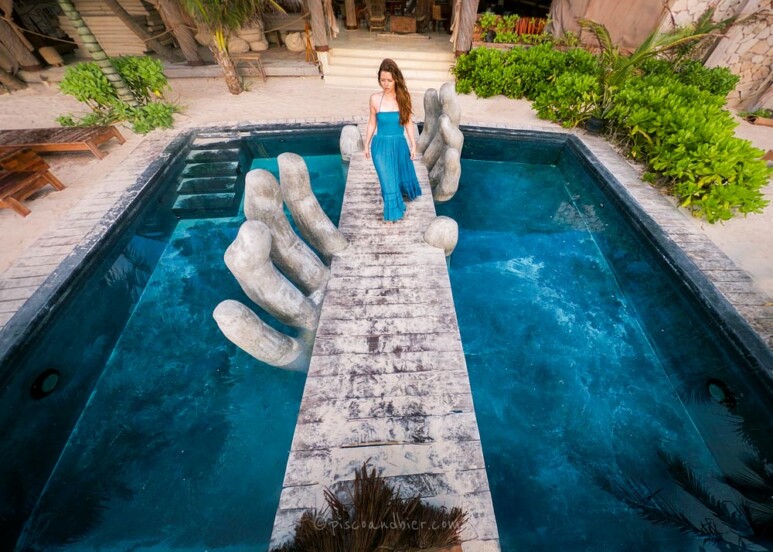 Vagalume is the most extraordinary Tulum beach club with pool. A bridge held up by two giant hands crosses the beachfront pool which makes this the most unique beach club pool in Tulum in our opinion.
Longest Swimming Pools In Tulum:
White Luxury Condos Tulum Lap Pool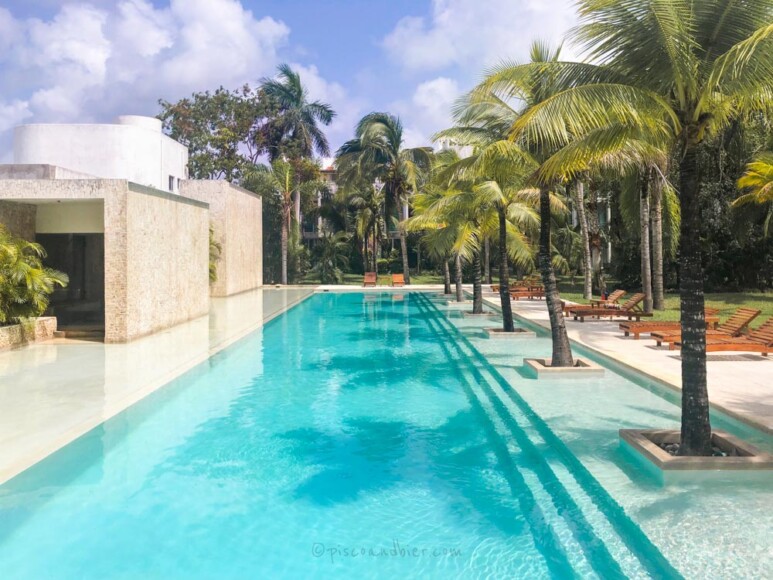 Since Felipe is a triathlete we are always on the hunt for lap pools when on vacation so he can continue his swimming practice.
With a lot of research we found the longest pools in Tulum that actually serve as lap pools as well.
Airbnb In Tulum With Private Pool
Madara Tulum: Tulum Plunge Pool Luxury Penthouse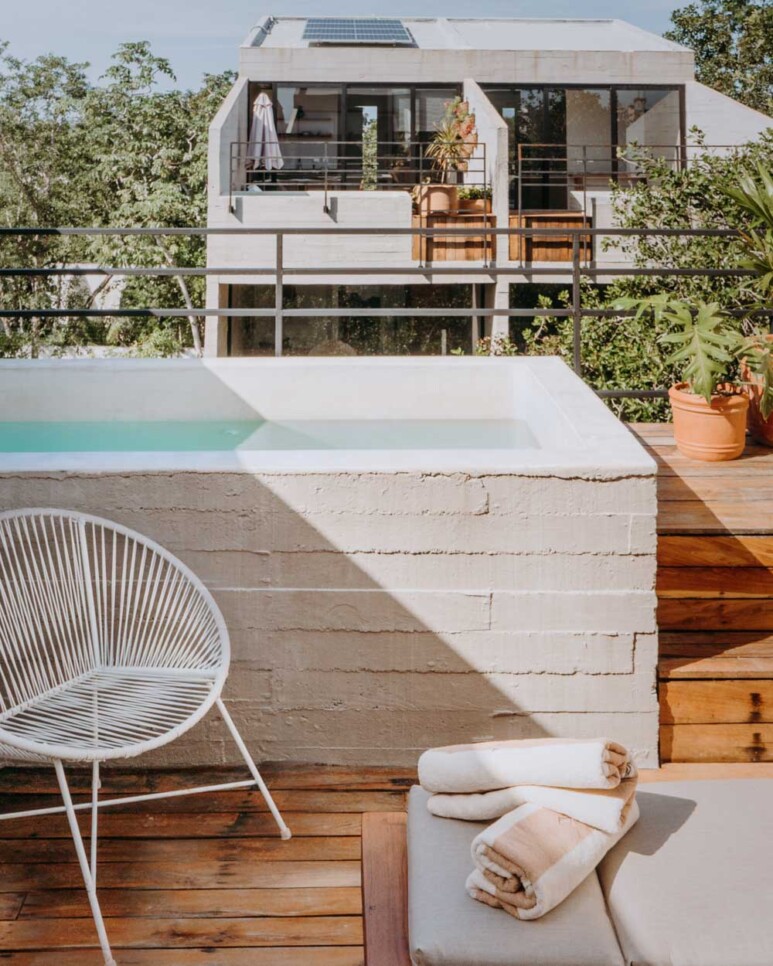 Tulum Villa With Private Pool On Rooftop
This luxurious Airbnb penthouse is one of the best places to stay in Tulum with a private pool. The 3-story penthouse comes with an amazing rooftop plunge pool overlooking the surrounding jungle.
The best part, this Tulum villa with private pool is actually quite affordable. You can check prices here.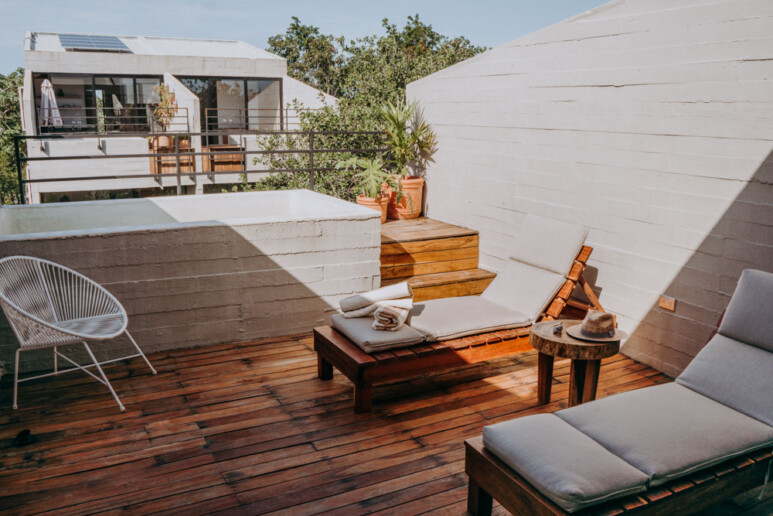 Design Meets Nature
The Madara Tulum Airbnb is a luxurious, brand new 3-story penthouse with wide and illuminated spaces. At Madara Tulum, you will discover an exciting new architectural concept with a sophisticated design close to nature.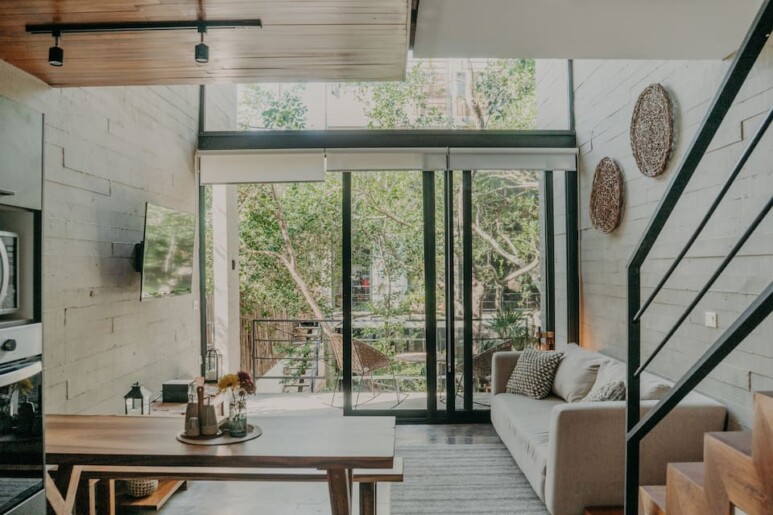 Read more: Hotels with private jacuzzi in room raleigh nc
Located in a new neighborhood in Tulum, surrounded by vibrant tropical jungle, the space and materials are in sync with the surrounding nature. The quiet and relaxing neighborhood will allow you to reconnect and rest.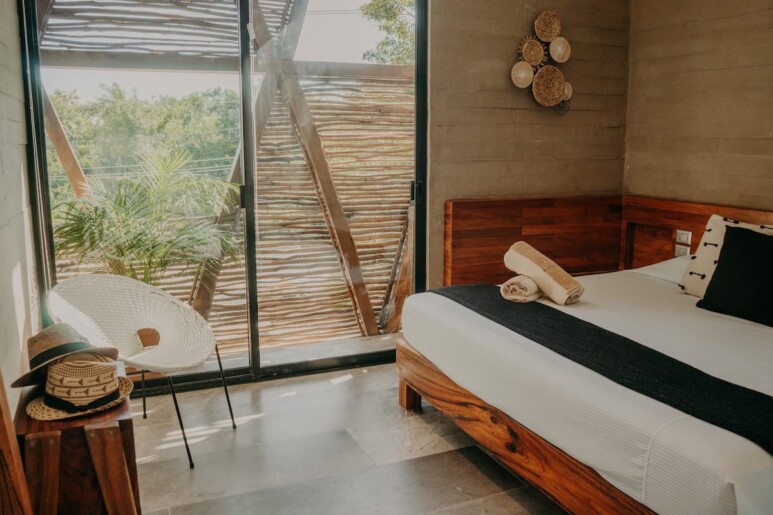 At the Madara Tulum penthouse you wake up to the sound of chirping birds in the morning, can spend the afternoon by the plunge pool, and when the day draws to a close you will be able to watch the beautiful sunset over the treetops of the jungle. During a clear night, you will be able to watch the stars from your own private rooftop.
Madara Tulum Airbnb Amenities
Madara Tulum penthouse has 3 bedrooms, 3 bathrooms, an open kitchen concept, a living room, and a dining area on the ground floor. A second dining area is on the third floor along with a spectacular rooftop with a plunge pool for taking a refreshing dip and sunbathing.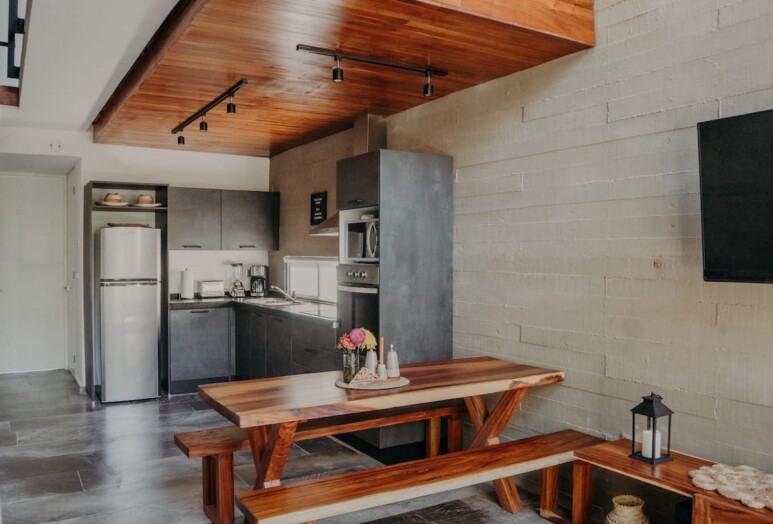 Other Amenities
Wifi, 2 TVs with Amazon Fire, 2 bikes, tropical interior garden, reception, and 24/7 security.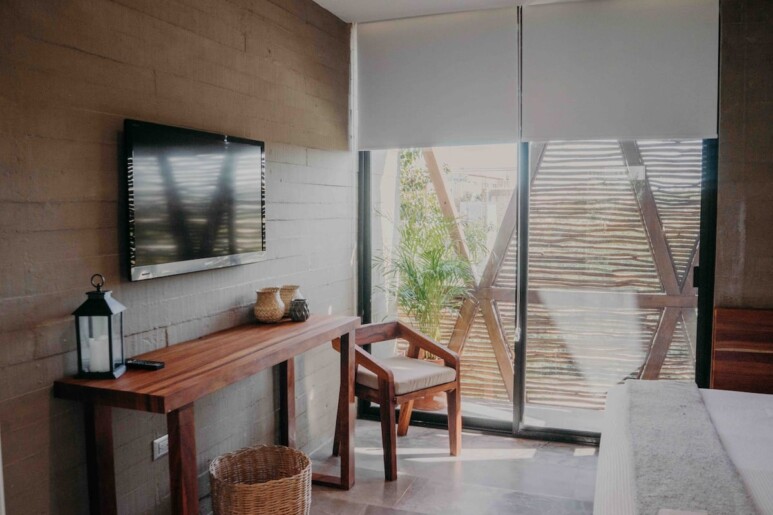 Featured Guest Reviews
Guide & Map To The Best Cenotes Near Tulum
More Vacation Rentals & Airbnb In Tulum With Private Pool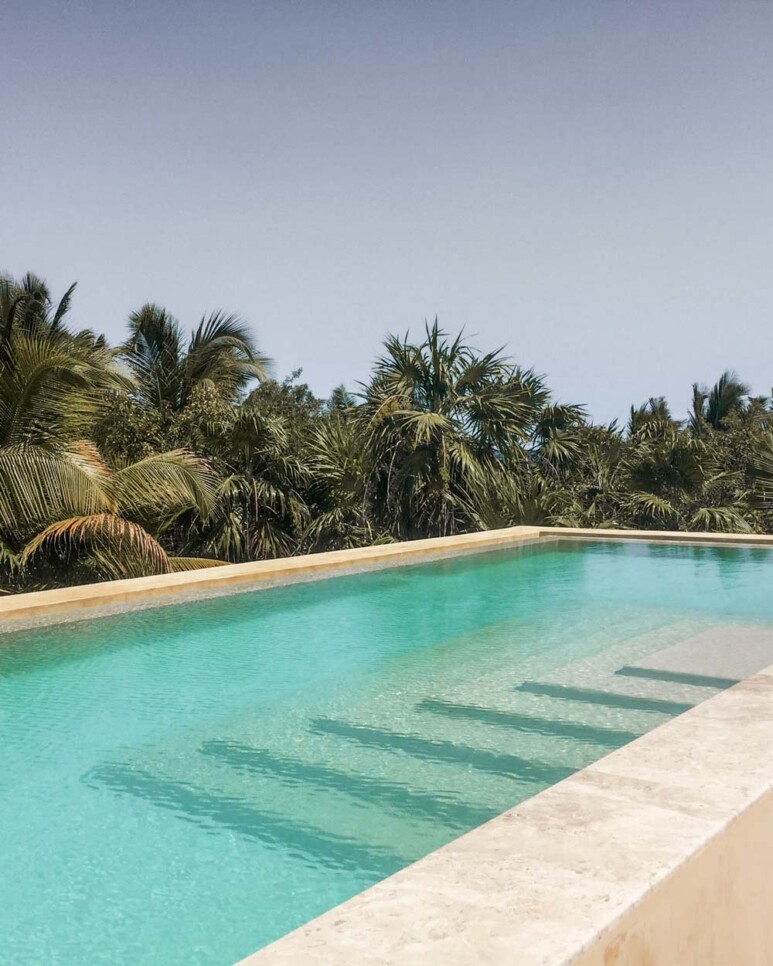 This is a selection of some of the coolest hotels and apartment/ studio rentals in Tulum town that have a private plunge pool. Most condominium residences and hotels also come with a shared pool for all guests to use.
What To Do In Tulum – Guide To Visiting Tulum
1-Br Madara Tulum Airbnb With Private Plunge Pool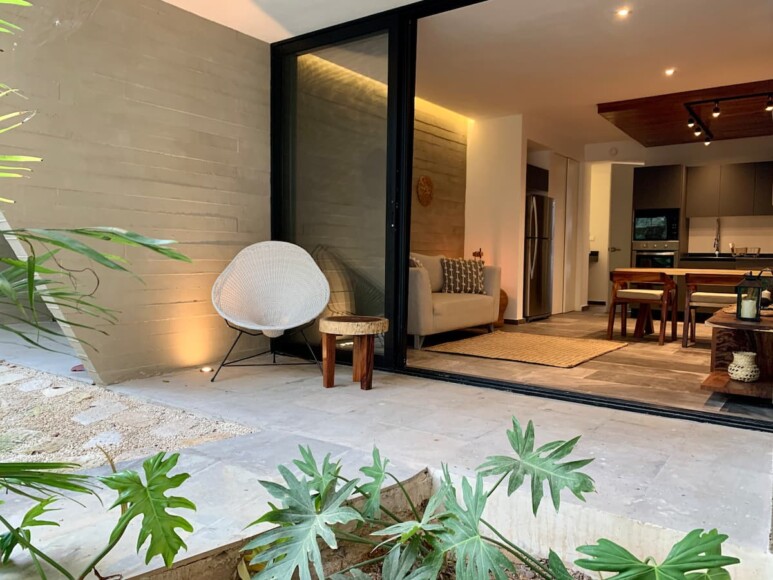 This is another upscale Airbnb of the Madara Tulum Collection. The private pool Tulum Airbnb comes with a plunge pool on the outside right next to the bedroom.
The Airbnb apartment is located on the ground floor, and features the same sophisticated nature-inspired design concept as the bigger Madara Villas.
Luxurious 1-Br Airbnb In Tulum With Private Plunge Pool
Madara Tulum apartment has 1 bedroom, 1 bathroom, an open kitchen concept, a living room, and a dining area. The ground-floor apartment has a private garden with a plunge pool that invites you to take a dip to refresh.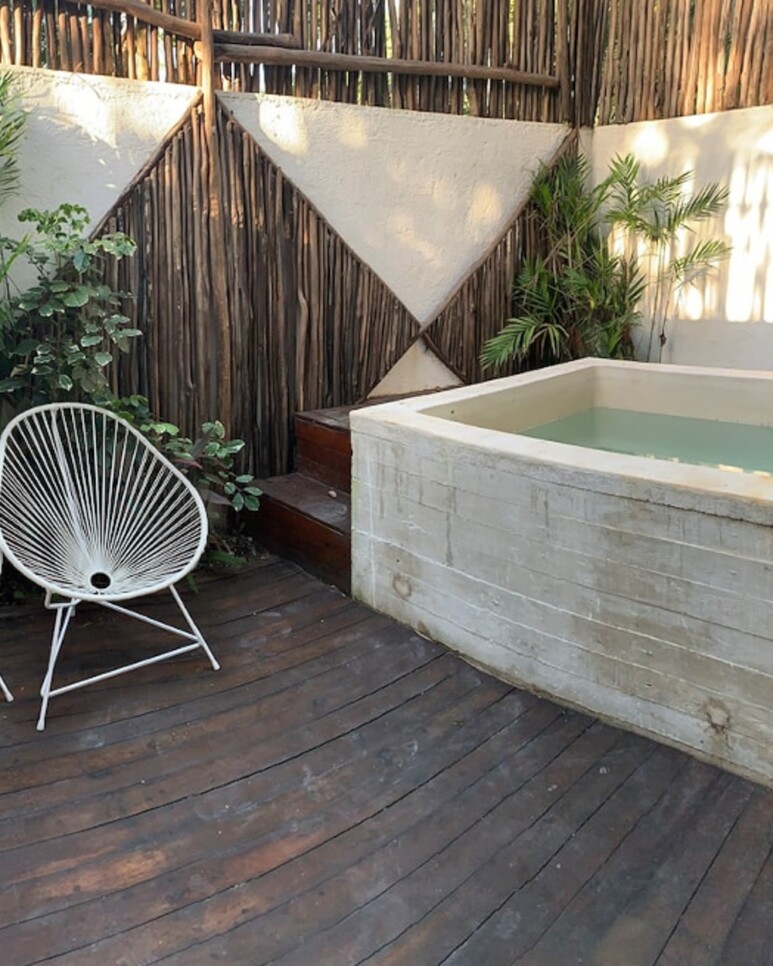 Other Amenities
Wifi, 2 TVs with Amazon Fire, 2 bikes, tropical interior garden, reception, and 24/7 security.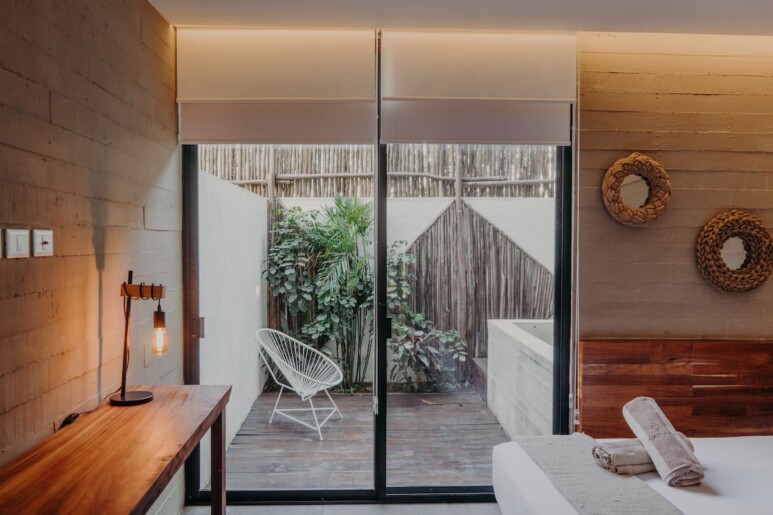 Madara Tulum Airbnb
What To Pack For Tulum – Boho Beach Outfits
Travel Insurance For Your Tulum Vacation
Besides looking for the best pools in Tulum it is a good idea to also look into travel insurance for your trip to Tulum.
This is something really important to think about! Whenever we travel abroad we always get travel insurance in case something happens. Not just because Germans (Julia) love to have insurance for everything! 😉
Of course, we are hoping for the best, and in the vast majority of cases, we will be just fine. But when something actually happens, like we get sick or have an accident, etc., we are going to be more than glad that we are covered.
In addition, travel insurances can also include things like reimbursements for lost or stolen luggage, trip cancellations/ interruptions and the like which can come in handy.
A popular insurance among travelers is World Nomads. We like that on their website you can super easily find out how much the travel insurance for your particular trip will cost and which benefits are included.
Check it out if you don't have travel insurance yet and are looking to get one.
Best Tulum Hotels With Private Pools
Airbnb & Villas With Plunge Pool In Tulum
We hope our post on Best Airbnbs In Tulum With Private Pool could inspire you and help you find an awesome place to stay in Tulum.
Read more: Hotel jal city haneda tokyo west
For more Riviera Maya travel inspiration check out our posts below.
Safe travels and have fun in Yucatán, Mexico!
Julia & Felipe
Follow our adventures on Instagram! @piscoandbier
Top Things To Do In TulumTulum Vs Cancun: Where Is Better?
TULUM CENOTES
Best Cenotes In Tulum & Tulum Cenotes MapCenote Calavera Tulum – Temple Of Doom Cenote
TULUM ACCOMMODATIONS
Affordable Beach Hotels In TulumBest Places To Stay In Tulum With Private PoolShambala Petit Hotel – Tulum Yoga Retreat & Beachfront Pool
TULUM OUTFITS & PACKING
What To Wear In Tulum – Outfits & Tulum Packing List
TULUM BEACHES & BEACH CLUBS
Best Beaches In Tulum & Tulum Beach Clubs
RUINS NEAR TULUM
Coba Pyramid & Mayan Ruins In CobaMuyil Ruins Tulum & Mayan Canals River Float
SIAN KA'AN
Sian Ka'an Jeep Safari Tour Into ParadiseTulum Wedding Ideas & Wedding Venues