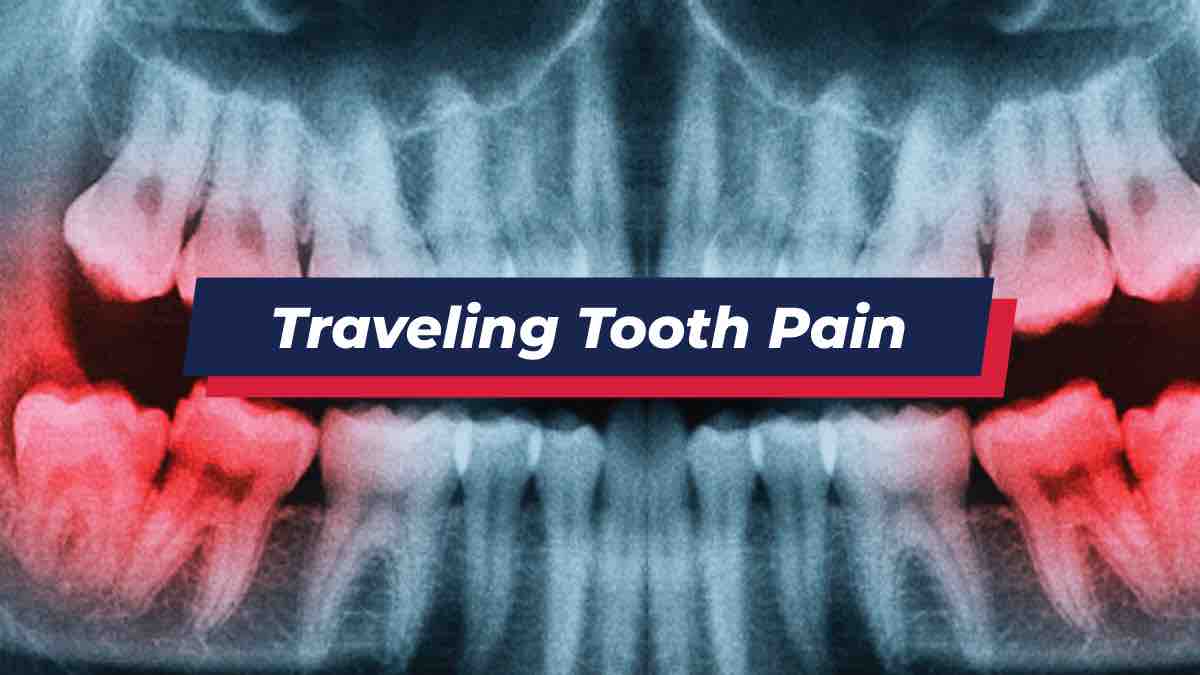 Toothaches can be a real pain, causing discomfort in the jaw and throughout the mouth. But did you know that toothaches can sometimes be deceptive? They can appear to originate from one tooth but actually radiate to other parts of the mouth. In this article, we'll explore the phenomenon of traveling tooth pain, its causes, and how to find relief. So, grab a cup of tea and let's dive in!
The Many Causes of Toothaches
Toothaches can occur for various reasons. One common cause is a cavity or hole on the tooth's surface. When left untreated, a cavity can penetrate deeper into the tooth, affecting the pulp or nerve and causing severe pain.
Gum disease, also known as periodontal disease, is another culprit behind toothaches. Shockingly, nearly half of people aged 30 and above in the United States suffer from gum disease. The prevalence increases to 70% in individuals over 65 years old. This condition is caused by the buildup of bacteria in the mouth, leading to plaque formation and eventually gum disease. Symptoms include red or swollen gums, persistent bad breath, tooth loss, and discomfort while chewing.
Exploring Non-Dental Factors
While poor dental care commonly causes toothaches, not all toothaches stem from problems within the mouth. Dentists refer to this phenomenon as referred toothache. It can be quite challenging to diagnose because it mimics a toothache, causing throbbing or sharp pain. Referred toothaches can even migrate from one side of the mouth to the other and move between different teeth.
Understanding Traveling Tooth Pain
Traveling tooth pain refers to a toothache that moves from one part of the mouth to another. This type of pain can be caused by various factors, including cavities, tooth abscesses, muscle pain, and headaches.
Cavities and Traveling Tooth Pain
When you consume sugary foods and neglect proper dental care, it creates a breeding ground for bacteria in your mouth. These bacteria produce acids that, combined with saliva and food particles, form plaque on your teeth. If not promptly removed, plaque attacks your tooth enamel, creating cavities. Regular brushing and flossing can prevent the formation of cavities, but once plaque hardens into tartar, professional dental intervention is necessary.
Cavities can remain painless until the bacteria reach the tooth's nerve, causing intense discomfort. In severe cases, untreated cavities can affect neighboring teeth or even the jaw.
Tooth Abscess and Migrating Tooth Pain
A tooth abscess occurs when pus collects in a specific area of the tooth due to an untreated cavity, injury, or poor dental work. If the abscess is in the upper tooth, the pain can radiate to the lower jaw, misleading the patient about the origin of the infection.
When Toothaches Spread and Cause Discomfort
Tooth infections can spread from one tooth to another, especially if the neighboring teeth also have cavities. Bacteria thrive in an environment created by sugar-rich foods and inadequate dental hygiene. Therefore, it's essential to maintain proper oral care to prevent the spread of infection.
Identifying a Spreading Tooth Infection
A tooth infection can cause various symptoms beyond localized pain. If left untreated, the infection can spread to other parts of the body, leading to swelling of the face, neck, or cheeks. Other signs include nausea, fever, double vision, severe headaches, and breathing difficulties. Seeking dental treatment in the early stages is crucial to prevent further complications.
Specific Scenarios: Top and Bottom Teeth Hurting, Upper Tooth Pain Radiating
When both the top and bottom teeth on one side hurt, it's easy to assume a single cause. However, tooth infections don't spread so readily. The pain could be due to multiple cavities in different teeth. Swelling accompanying the pain indicates the need for dental intervention.
Upper tooth pain radiating to the lower jaw is also possible. In some cases, a tooth abscess can cause pain in the lower jaw, neck, or even extend to the ears. A root canal may be necessary to address the problem effectively.
When All Teeth Hurt on One Side
Experiencing pain in all teeth on one side could indicate gum inflammation. Swollen gums can cause pain in the surrounding teeth and make the entire side of the mouth ache. Another potential cause is a cracked tooth, often resulting from physical injury or weakened tooth structure due to a large filling. It's important to exercise caution, avoid biting hard foods, and seek dental advice, especially if you're over 50 years old.
Seek Professional Care for Lasting Relief
Toothaches can result from various causes, and sometimes they can be misleading. Proper dental care, including regular check-ups, brushing, and flossing, is crucial to maintain oral health. If you experience severe or persistent tooth pain, consulting a dentist is the best course of action. Remember to prioritize your dental well-being to prevent complications and keep your smile shining bright!
This article is brought to you by DHPL Travels, your trusted partner for unforgettable travel experiences.