Are you looking for a more solid and enclosed space for your pets and kids while camping? RVs with patios can be the perfect solution! These trailers extend your living space at the back, providing a comfortable place to relax and enjoy the beautiful views. Whether you want to let your pets roam freely, let your kids run around safely, or simply step outside in your bare feet and savor a cup of coffee, these trailers with patios are worth considering!
RVs with a Back Patio
Grand Design Momentum 399TH
The Grand Design Momentum 399TH offers not just one, but TWO porches! With a length of 43 feet, this fifth wheel provides both a back porch and a side patio. Combined with the luxurious interior that Grand Design is known for, this RV is perfect for those who want to enjoy the outdoors in style.
Forest River Shockwave 24QSGMX
The Forest River Shockwave 24QSGMX is a smaller travel trailer that still offers a pretty nice back patio. Measuring 27.5 feet in length and 12 feet tall, this Shockwave has a cargo carrying weight of 2,625 pounds. The patio area comes with railings around all three sides and a retractable awning, providing shade from the sun or rain. It's an ideal option for families who want their kids and pets to roam freely outdoors.
Jayco Seismic Luxury 3512
The Jayco Seismic Luxury 3512 is a premium toy hauler with a rear EZ Lift tailgate that transforms into a party space with its own dedicated stairs. The back porch features fencing around three sides, an electric awning, and doors that open from the toy hauler garage area. These doors allow you to close off the patio during inclement weather or to keep bugs out. With a length just over 41 feet and a cargo capacity of 3,325 pounds, this RV is perfect for adventure enthusiasts.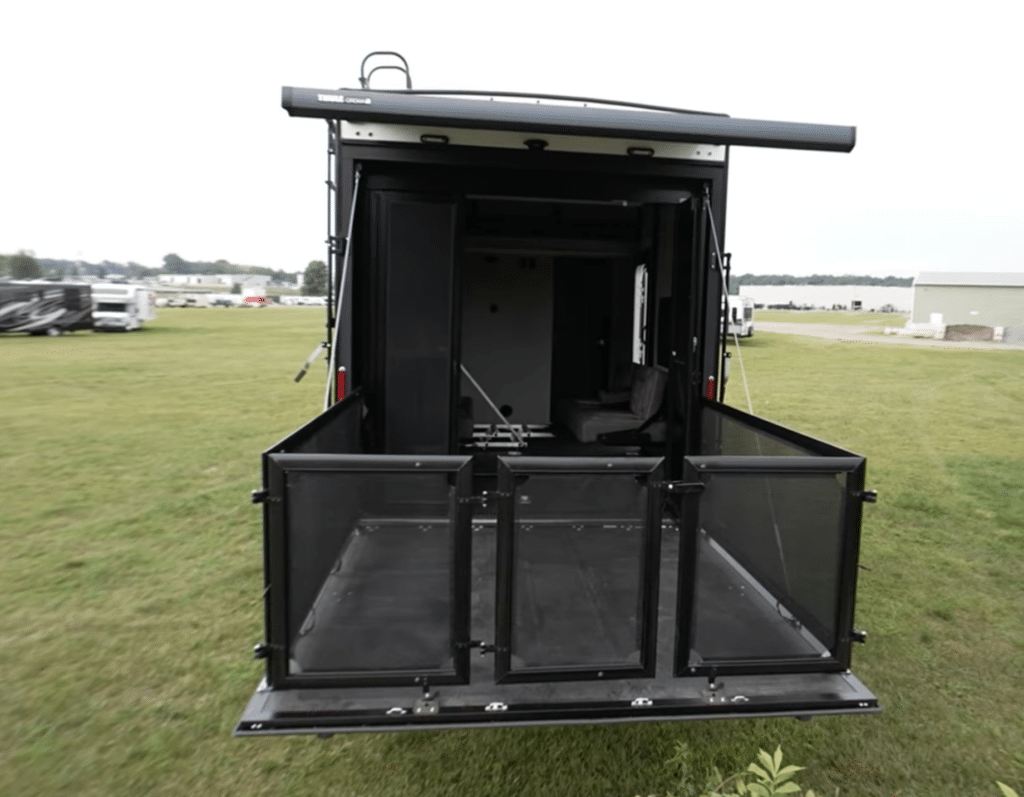 Thor Outlaw Class C 29
The Thor Outlaw Class C 29T is a unique motorhome that combines the features of a Class C RV with the added bonus of a rear garage and a back patio. The awning extends over the porch, and screen curtains keep bugs outside. The sun deck can easily be folded down in the back, with screen railings that quickly pop up to secure the patio.
Luxe 48FB Toy Hauler
The Luxe 48FB Toy Hauler is perfect for those who don't mind towing a long trailer. With two patios, this RV offers the ultimate camping luxury. The back patio has solid doors that separate the interior living space from the exterior patio, while the side patio features stairs with a large handrail. Additionally, the side patio has sliding glass doors between the interior and exterior living space, and even an outdoor TV, making it a great place to watch the game!
Dutchmen Voltage 4145
The Dutchmen Voltage 4145 combines the comforts of home with the functionality of a toy hauler. It features a folding rear patio with a screen enclosure to protect the interior from bugs. This fifth wheel measures just over 43 feet in length and has an impressive cargo carrying capacity of 4,391 pounds. It's perfect for those who want both comfort and the ability to haul their toys.
Cherokee Wolf Pack 355 Pack 14
The Cherokee Wolf Pack 355 Pack 14 can be best described as a cozy cabin on wheels with an impressive attached garage and a folding rear patio. Sliding screen doors lead to the patio area, providing a seamless connection between indoors and outdoors.
KZ Durango Gold G382MBQ
The KZ Durango Gold G382MBQ is not a toy hauler but still offers a back patio, which is quite rare. The patio deck has dedicated stairs with a large handrail, and sliding glass doors separate the porch from the interior living room and kitchen area. With a length of 42 feet, this fifth wheel is not only beautiful on the inside, but its floor plan options are designed for adventurers or those who work on the road and want to relax on their rear patio at the end of the day.
Country Coach Veranda
The Country Coach Veranda is a Class A Motorhome with a side patio, making it a unique luxury option. Although this model is no longer available, you might be lucky enough to find a used one for sale. The side patio extends outward and downward with the push of a button, and the railings are already attached when it extends. Glass doors separate the interior of the motorhome from the side patio, providing a seamless transition between indoor and outdoor living spaces.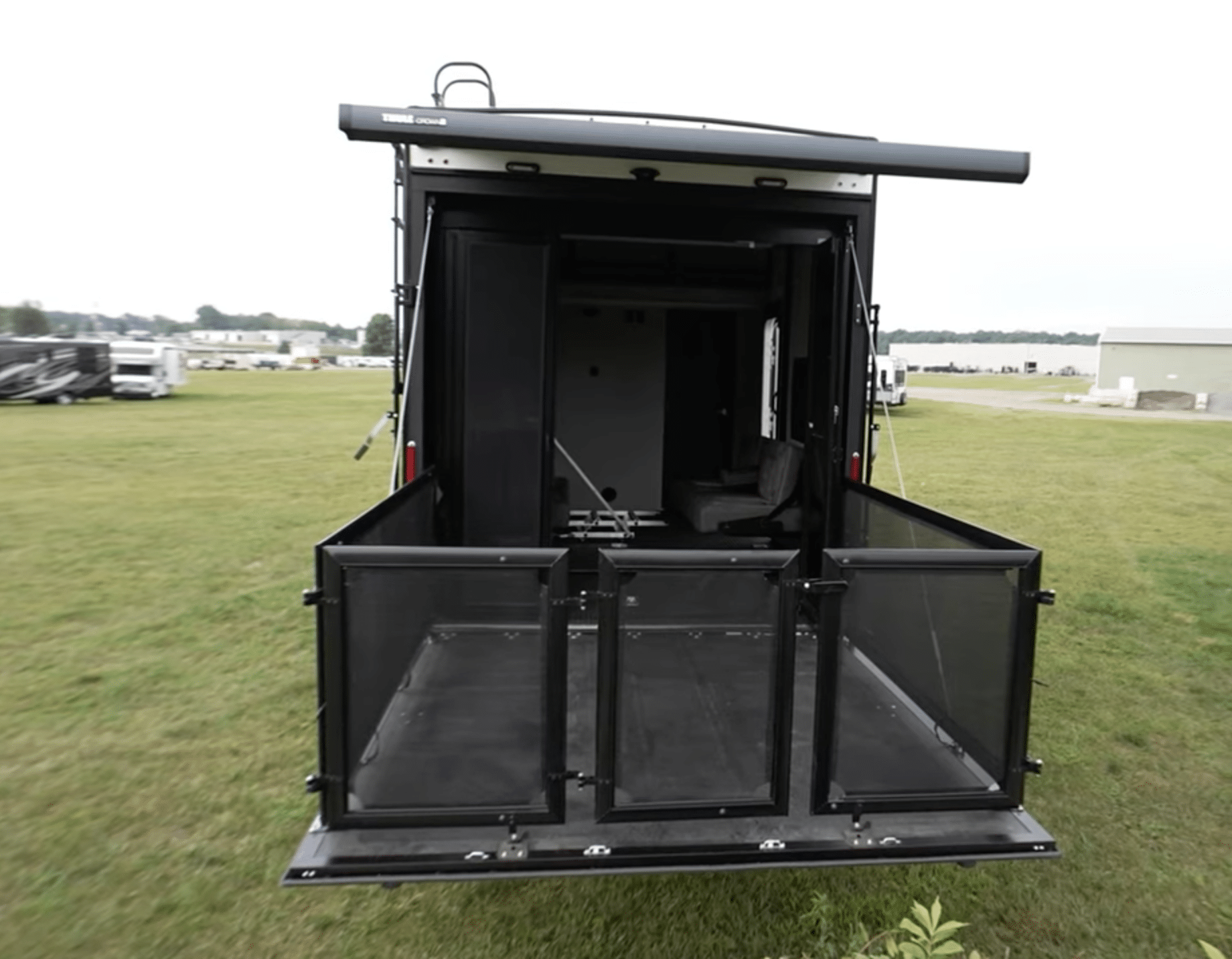 Don't forget to check out these additional RV guides:
Class C RVs with a Washer and Dryer
Travel Trailers Under 7,000 Pounds
Bunkhouse Travel Trailers Under 30 Feet
Travel Trailers with Bathrooms Under 2,500 Pounds
Class C RVs with Bunk Beds
35-Feet (or Smaller) Motorhomes
Experience the joy of camping with DHPL Travels and expand your living space with these incredible travel trailers with patios.