If you are planning a wedding with a travel theme or a destination wedding, why not incorporate elements of your love for adventure into your special day? With a touch of do-it-yourself creativity, some globes and maps, and a few ingenious ideas, you can create a beautiful and unique wedding that reflects your sense of wanderlust. Here are 30 inspiring ideas to get you started:
Incorporating Maps and Globes
Use maps or globes as part of your wedding decor. You can include maps in your invitations, use a globe as a centerpiece, or create a map guest book for your guests to sign.
Utilize luggage tags as place cards or favors for your guests.
Integrate travel-themed elements into your wedding attire. For instance, the groom could wear a map tie and the bride could carry a bouquet wrapped in a vintage map.
Use a suitcase as a card box or to showcase photos and sentimental items.
Create a travel-themed escort card display using a vintage suitcase or luggage rack.
Utilize vintage postcards as part of your table decor or as part of a captivating display.
Design a travel-themed photo booth with vintage suitcases, maps, and other props.
Employ travel-themed signage, such as old suitcases or vintage luggage tags, to guide your guests to different areas of your reception.
Serve food and drinks with a travel theme, such as miniature cocktails served in airplane bottles or cuisine from different countries.
Consider using a world map or other travel-themed backdrop for your ceremony or reception.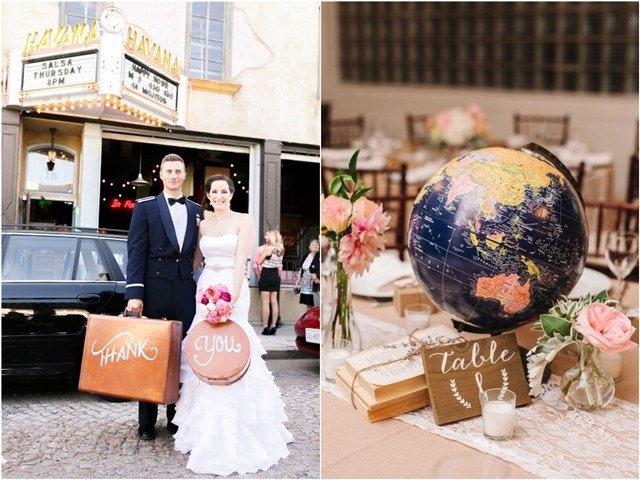 Creative Ideas for Your Wedding Cake
Get a wedding cake that incorporates travel-themed elements like globes and maps. It will be the sweet centerpiece of your wedding.
Decorate your wedding cake with edible landmarks from around the world, symbolizing your love for travel and adventure.
Personalize your cake with toppers that represent your favorite travel destinations or hobbies.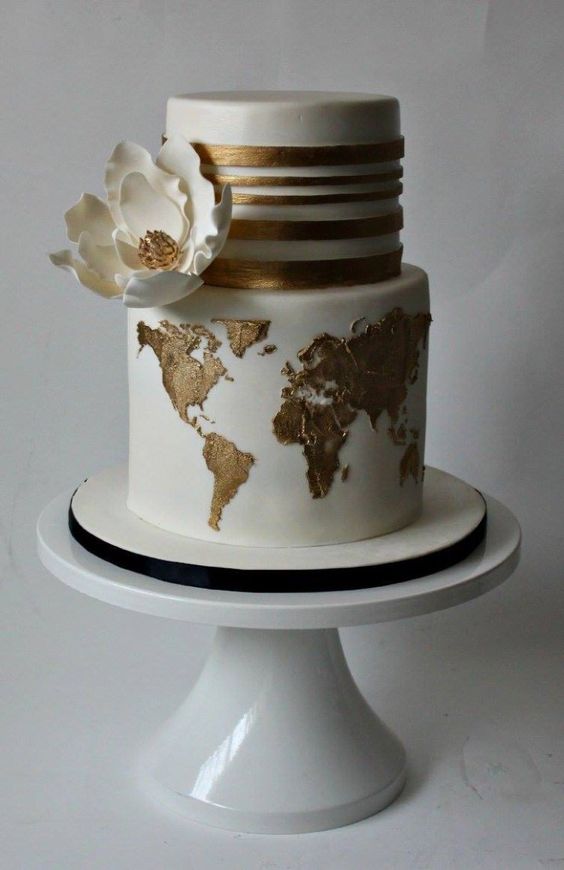 Unique Guest Book Alternatives
Instead of a traditional guest book, offer a travel map for your guests to sign and write their best wishes. It will be a cherished keepsake that reminds you of all the places your loved ones have come from.
Ask guests to sign their name and write a message on their favorite place in the world, creating a stunning visual representation of your friends and family's wanderlust.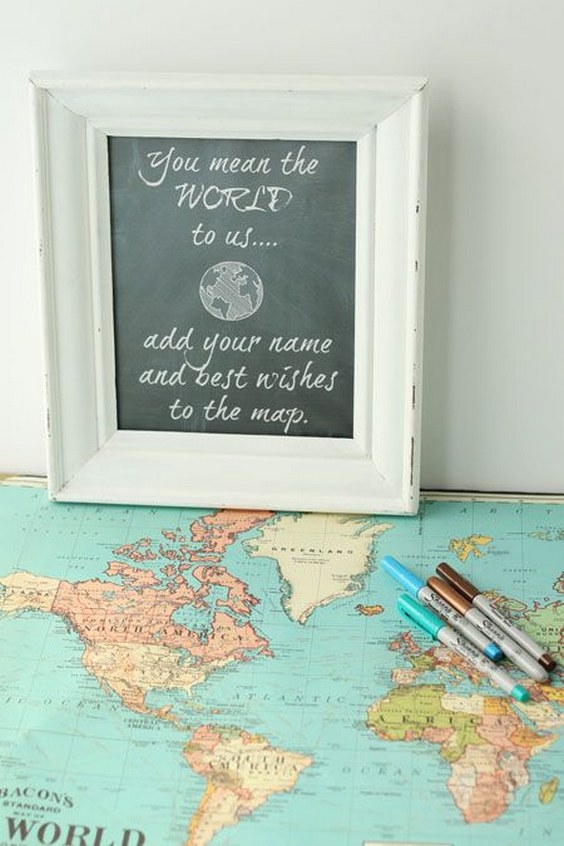 Unique Decor Ideas
Create a captivating centerpiece with books, globes, and planes for a charming travel-themed table setting.
Use suitcases and vintage travel accessories to add a touch of nostalgia to your wedding decor.
Set up a drink station on a luggage cart, adding a fun and functional element to your celebration.
Provide suitcases for guests to place their cards and gifts, adding an extra touch of charm and practicality to your wedding.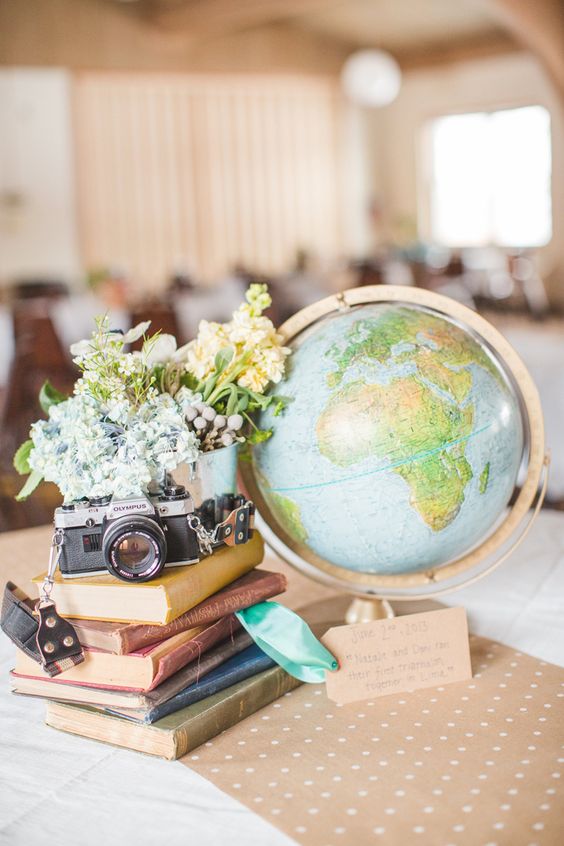 Creative Wedding Favors
Delight your guests with gift bags from different countries, filled with unique items representing each culture. It's a thoughtful way to share your love of travel and celebrate the diversity of your guests.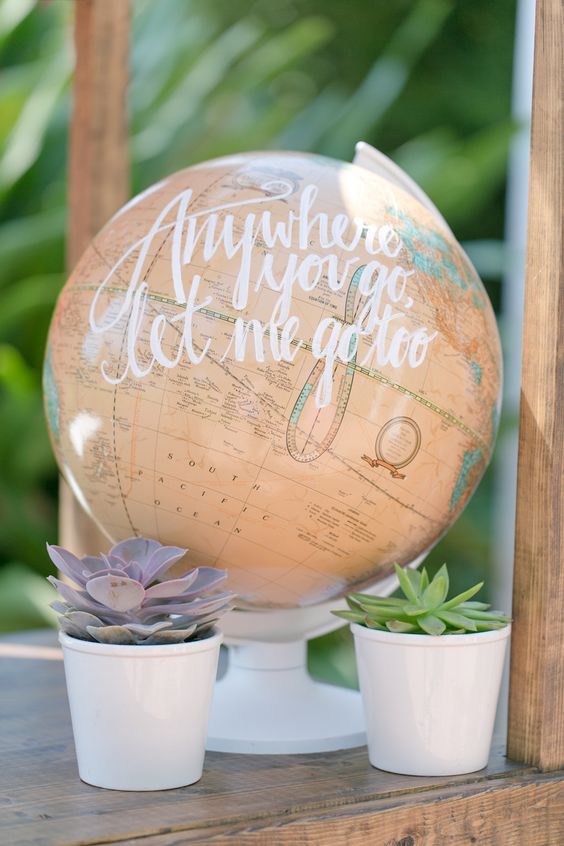 Celebrate Your Love for Travel
What better way to celebrate your commitment than with a travel-themed wedding? Whether you have a honeymoon planned or not, this theme is perfect for couples who love to explore.
Travel-themed weddings can range from simple to extravagant. You can create a beautiful celebration on a budget or go all out with a lavish event. The key is to keep it true to your personality and the love you share.
Remember, the focus should be on the love between two people rather than the party itself. So, keep it simple, elegant, and let your love for travel shine through.
To plan your dream travel-themed wedding, visit DHPL Travels for more inspiration and expert advice.