Fall protection is a crucial concern for workers in various industries. Questions often arise regarding the difference between fall prevention, travel restraint, and fall arrest systems. While these terms may seem interchangeable, each system serves a distinct purpose in safeguarding workers. Understanding these differences can help you choose the most effective fall protection solution for your needs. In this article, we will explore the key features of each system and their applications.
Fall Prevention vs. Travel Restraint vs. Fall Arrest
To grasp the nuances between these fall protection systems, we must first understand their core objectives.
Fall prevention systems aim to passively prevent falls from happening. They provide continuous protection to workers, allowing them to carry out their tasks without any additional safety measures. Rooftop guardrails serve as an excellent example of fall prevention systems. With a perimeter guardrail in place, workers are shielded from falls right from the moment they step onto the roof until they leave the work area. Unlike other systems, fall prevention does not require workers to hook into safety equipment.
Travel restraint systems, on the other hand, actively restrain workers from reaching dangerous edges or drop-offs. These systems limit a worker's movement and prevent them from getting too close to the edge. Travel restraint systems come in various forms, such as single point anchors and horizontal lifelines. However, all these systems require workers to wear a body harness and connect a lanyard to an anchor point.
Fall arrest systems are designed to halt a fall that has already commenced. Although fall prevention is the preferred approach, there are situations where workers may find themselves in imminent danger and need to rely on a fall arrest system. Similar to travel restraint systems, fall arrest systems involve connecting workers to anchor points using body harnesses and lanyards. However, fall arrest equipment is specifically engineered to withstand the significant forces generated when arresting a fall. Shock absorbers are also integrated into fall arrest systems to mitigate the risk of injury upon impact.
With a clear understanding of these fall protection systems, you can make an informed decision about the most suitable solution for your specific application.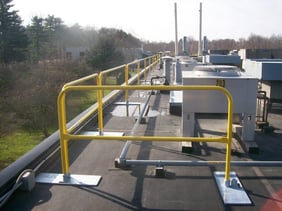 Fall Prevention Systems: Passive Protection for Rooftop Safety
Fall prevention systems offer passive protection, eliminating the need for workers to alter their routines. These systems allow workers to go about their tasks as usual while ensuring their safety. Rooftop guardrails are a prime example of fall prevention systems. By installing a perimeter guardrail system, workers are shielded from falls the moment they step onto the roof until they exit the work area. The presence of a guardrail prevents accidental falls without requiring workers to engage any additional safety measures like self-retracting lifelines (SRL). While fall prevention systems are the safest option for rooftop safety, they may involve a higher financial investment compared to other approaches.
Travel Restraint Systems: Restricting Access to Hazardous Edges
Sometimes referred to as "fall restraint," travel restraint systems prevent workers from approaching unprotected leading edges. These systems actively restrict a worker's access to dangerous areas, preventing accidental falls. Travel restraint systems can manifest in various forms, including single point anchors and horizontal lifelines. However, regardless of the system type, workers must wear a body harness and connect a lanyard to an anchor point. Fixed single point anchors are ideal for smaller work areas, while horizontal lifelines accommodate larger applications that require more freedom of movement.
An example of travel restraint equipment is a rigid post single-point anchor system. This system allows users to attach a lanyard or lifeline to an anchor point on one end and their harness on the other. Portable anchors, vacuum single point anchors, and truss anchor kits also function similarly, albeit with different methods of anchor point attachment. The lanyard used in travel restraint equipment plays a crucial role in preventing falls. Engineered to ensure workers never reach the edge, travel restraint lanyards are typically fixed lengths and capable of withstanding forces of up to 800 lbs.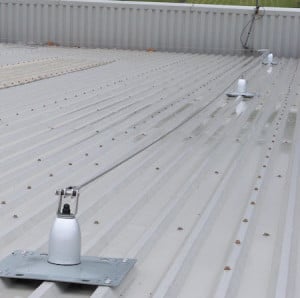 Fall Arrest Systems: A Last Resort Strategy
Fall arrest systems serve as a last resort solution in the hierarchy of fall protection. While the primary goal is always to prevent falls from occurring, certain circumstances may warrant the use of a fall arrest system. Fall arrest systems are designed to stop falls that are already in progress. Like travel restraint systems, they involve workers connecting to anchor points using body harnesses and lanyards. However, the equipment utilized in fall arrest systems is specifically engineered to withstand the substantial forces associated with stopping falls. Fall arrest lanyards, for example, must be capable of withstanding a dead weight of 5,000 lbs. To ensure user safety, fall arrest systems incorporate shock absorbers to minimize the risk of severe injuries upon impact.
Choosing the Right Fall Protection System for Your Needs
Determining the ideal fall protection system hinges on several factors, including your budget, frequency of use, and the specific layout of your rooftop work areas. While a rooftop guardrail system offers near foolproof protection and requires less maintenance, larger perimeters or sloped roofs may necessitate alternative solutions. In such cases, travel restraint systems are preferable to fall arrest systems. However, if workers must work in close proximity to leading edges, a fall arrest system may be more suitable. To guarantee a safe rooftop work environment that complies with OSHA regulations, partnering with a reputable fall protection company like DHPL Travels is crucial. They possess the necessary expertise and experience to design and install effective fall protection systems while prioritizing the safety and productivity of your personnel.