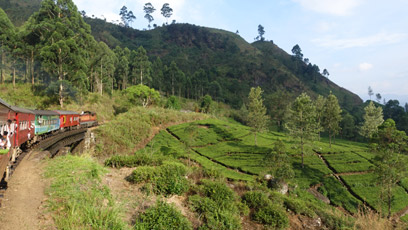 The mid-morning train from Colombo, in Tea Country.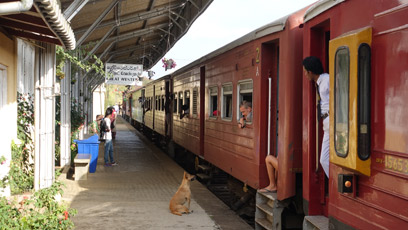 See Sri Lanka by train…
Sri Lanka is a fabulous place, safe, friendly, and remarkably hassle-free. Sri Lanka's railways offer a great way to get around while providing a real cultural experience. The most scenic routes will be highlights of your visit, especially the wonderful journey from Colombo to Kandy and up into Tea Country, as well as the coastal train from Colombo to Dutch colonial Galle. British visitors will find the stations, signal boxes, and old red semaphore signals familiar! This article serves as a beginner's guide to train travel in Sri Lanka.
Train times & fares for key routes
Colombo – Kandy – Nuwara Eliya – Elle – Badulla
Colombo – Galle – Matara: The Coast Line
Colombo – Polonnaruwa, Batticaloa, Trincomalee
Colombo – Anuradhapura – Talaimannar/Jaffna
Colombo commuter: Negombo, Mount Lavinia, Kalutara, Puttalam, Avissawella
Sri Lanka railway information
How to check train times & prices
Interactive route map
How to buy tickets
Colombo Fort station & how to find your train
Luggage, food & other tips
What are Sri Lankan trains like?
A journey in pictures, Colombo to Nuwara Eliya
Video: Colombo to Tea Country by train
Other useful information
Useful country information: visas, time zone…
Recommended hotels in Colombo & Sri Lanka
Travel to or from Sri Lanka by sea from India
Flights to Sri Lanka
Travel insurance, mobile data packages, VPN
Interactive train map
Click a route for train times & fares
Or click this link for a larger, detailed zoomable map
© OpenStreetMap contributors, available under the creative commons license.
On this page, you'll find timetables & fares for the most popular trains, stations & routes such as Colombo to Kandy, Hatton, Nanuoya, Haputale, Elle, Badulla, Colombo to Galle, Matara, Galoya to Polonnaruwa, Batticaloa, Trincomalee, and Colombo to Anuradhapura, Talaimannar, Vavuniya, Jaffna. You can check train times between any two stations at railway.gov.lk, the official Sri Lanka Railways website. Most of the listed websites and agencies only make bookings for 'reserved' cars. Even if you're told the train is 'fully booked', you can always buy an 'unreserved' ticket at the station on the day for the 2nd & 3rd class unreserved cars, as these cannot sell out. For a detailed understanding of the Sri Lanka train network, refer to the zoomable map at openstreetmap.com.
Tickets for unreserved cars
Sri Lanka Railways 2nd & 3rd class unreserved cars cannot be booked in advance.

Tickets are only sold on the day at the ticket office, sometimes from only an hour before departure. Turn up, buy a ticket, and hop on; it's easy. Tickets cannot sell out.

Virtually all trains have unreserved cars. The unreserved cars are often crowded, but whether you get a seat depends on whether you're joining at the starting station or en route, and how busy that day or time is. If all seats are taken, you can stand, preferably wedged in an open doorway with a breeze wafting in and great views.

At Colombo Fort station, specific ticket windows are designated for specific routes:

Counter 1 for Anuradhapura, Vavuniya, Talaimannar & Jaffna.
Counters 2 or 8 for Kandy, Hatton, Nanuoya, Haputale, Elle, Badulla.
Counter 3 for Batticaloa or Trincomalee.
Counter 4 for any station, 1st & 2nd class tickets only.
Counters 13 or 14 for Galle & Matara.

On the Colombo-Galle-Matara route, virtually all seats are unreserved, so pre-booking is neither necessary nor possible. The same goes for all Colombo Commuter trains, including the Puttalam and Avissawella lines. A tip: Many trains to Galle and Matara start at Colombo Maradana station before calling at the main Colombo Fort station. Rather than boarding at Colombo Fort when most of the seats will already be taken, if you board at Colombo Maradana, you stand a good chance of getting a good seat on the coastal (right-hand) side of the train.
Tickets for reserved cars
Many important longer-distance trains have a designated 2nd class reserved car and sometimes a 3rd class reserved car, in addition to the many unreserved cars. Some trains have a 1st class car, and 1st class seats are always reserved.
Seats in these reserved cars can be booked up to 30 days in advance. If you buy a ticket for a reserved car, you are guaranteed a seat, and a specific seat number will be printed on your ticket.
Demand for reserved seats often exceeds supply, so it's a good idea to buy tickets in advance before you get to Sri Lanka. Seats in 1st class observation cars and the air-conditioned 1st class car on the blue trains from Colombo to Kandy and Badulla usually sell out almost as soon as booking opens. 2nd class reserved cars also sell out well in advance on the Hill Country trains from Colombo to Kandy and Badulla, so it's best to book ahead.
If you are told that a train is full, this only means that the reserved cars have sold out. You can still buy an unreserved ticket at the station on the day for the 2nd & 3rd class unreserved cars, as these cannot sell out. So you can still travel on that train, just without a reserved seat. A tip: If 2nd class reserved is sold out, ask for a 3rd class reserved ticket if available. A reserved seat in 3rd is much better than standing in 2nd unreserved.
At Colombo Fort, you can buy tickets for 1st, 2nd, or 3rd class reserved seat cars at the Berth/Intercity Reservations Office at Colombo Fort, marked counter 17, accessed from the front of the station toward the left-hand end of the station facade. Inside the office, there are separate counters for specific routes. According to the Sri Lanka Railways website, it's open from 05:00-14:00, closed for lunch from 12:30-13:30, but it has been open as late as 17:00. The Railway Tourist Information Office at the front of Colombo Fort sells expensive tours but not train tickets, so don't bother with this.
In Kandy, you can make reservations at ticket office counters 1 & 2, marked as the Intercity counter.
Option 1, buy online at 12go.asia
Option 2, seatreservation.railway.gov.lk/mtktwebslr. This is a new ticket booking service from Sri Lankan Railways. A test booking shows it accepts overseas credit cards, but further feedback would be welcome. It allows online booking, and vouchers must be exchanged for an actual ticket at the station.
Option 3, VisitSriLankaTours. Another recommended agency is VisitSriLankaTours. I have had numerous positive reports from people who have used them, and I have used them myself. Tickets can be collected at most major railway stations.
Option 4, Tourmastertravelservices. Another agency with an easy-to-use website for ordering train tickets is Tourmaster Travel Services. I have had at least two very positive reports about Tourmaster so far, and more feedback would be appreciated.
Remember that these websites and agencies only make bookings for 'reserved' cars. Even if you're told the train is 'fully booked', you can always buy a ticket on the day and travel 'unreserved', as explained above.
Colombo Fort station: How to find your train
Sri Lankan Railways doesn't excel at customer information. They don't have platform departure indicators, nor do the trains themselves carry any destination boards. So always check which platform your train leaves from as you enter the station.
At Colombo Fort, there's one main electronic departures & arrivals board. It's very easy to miss, as it's directly above and behind your head when you walk onto platform 3 through the main ticket barrier next to ticket counters 7, 8 & 9. This will tell you which platform to go to, but remember if you're going to Galle, your train may be shown as going to its final destination, Matara. And if you're going to Hatton, Nanuoya, Haputale, or Elle, your train will probably be shown as going to Badulla.
At most other stations, there's a more low-tech solution to tell you the platform to go to, like the board at Nanuoya station.
Luggage, food & other tips
You simply take your luggage with you onto the train and put it on the overhead racks above your seat. The overhead racks can accommodate anything up to a large backpack or hefty roll-along size. A huge suitcase would just go on the floor. Luggage isn't usually an issue, nobody weighs it or worries about what you take.
A handful of trains, including the Chinese-built blue trains and most Night Mails, have a small buffet counter with limited stock, such as crisps, fizzy drinks, and hot sweet tea. However, if you are in a reserved car, the gangway doors to the rest of the train may be locked, so don't assume you'll be able to get to the buffet. It's best to bring your own food and drink. Sri Lanka is hot and humid, so always travel with plenty of bottled water. You may find vendors wandering down the train, but don't rely on this. Although, if you see the tea wallah, flag him down for a cup of lovely hot sweet tea, which costs around 40 rupees (20p) per cup.
For a detailed understanding of how Sri Lankan trains are like, refer to the section in this article titled "What are Sri Lankan trains like?"
In summary, exploring Sri Lanka by train is an excellent way to experience the country's beauty and cultural diversity. From the scenic routes to the practicality of train travel, there are plenty of reasons to consider booking train tickets online for your Sri Lanka adventure. DHPL Travels offers a wide range of train routes and schedules, providing a convenient and reliable service. So, hop on board and get ready for an unforgettable journey through the heart of Sri Lanka!