Description
Sri Lankan Star Tortoise Hatchlings
Looking for a baby Sri Lankan Star tortoise for sale? You're in luck! These adorable creatures can be found online at medium-high prices. Due to their smaller size, Sri Lankan Star tortoises lay only a few eggs, which drives up their value compared to larger species like the giant tortoise.
Star Tortoise Care
Taking care of a baby Sri Lankan tortoise is a breeze. Check out our comprehensive Indian Star tortoise Care sheet for all the information you need. This guide covers everything from setting up the perfect habitat to general care tips. It even includes a detailed list of safe foods for your tortoise.
Star Tortoise Habitat
You can keep anywhere from 1 to 4 Sri Lankan Star tortoises in a variety of enclosures, even with limited space. From an aquarium to an open-top tub or a sweater box, the options are endless. Just make sure to maintain the appropriate parameters for your tortoise's well-being. For hatchlings, we recommend a minimum space of around 24″x12″, gradually increasing to a maximum of 2'x4′ when they reach 18 months old. By keeping the habitat compact, you can easily monitor the parameters and ensure your tortoise feels secure without getting lost.
Star Tortoise Humidity
Maintaining the right humidity levels is crucial for your star tortoise's health and appearance. Shells with heavy pyramiding can result from either low humidity or a combination of factors. For baby star tortoises, aim for humidity around 72-75%. As they mature, humidity can be decreased to approximately 50%. Adequate humidity will keep your baby Sri Lankan Star tortoise hydrated and promote proper growth. To maintain optimal humidity, consider housing them in closed systems with limited air movement.
Baby Sri Lankan Star Tortoises Love Humid, Tranquil Air
Creating an environment with low air movement and high humidity (around 75%) is our secret to raising healthy and smooth-shelled baby Sri Lankan Star tortoises. This combination promotes their growth, making them thrive like never before. Picture their shells growing as smooth as a bowling ball!
Sri Lankan Star Tortoise Diet & Food List
Variety is key when feeding your baby Sri Lankan Star tortoise. These little creatures love a wide variety of fresh greens and veggies. At Tortoise Town, we prepare a daily "chopped salad" consisting of kale, romaine, collard greens, mustard greens, radicchio, various lettuces, and dandelion. We also blend yellow squash and carrots, which we spread across their tortoise salad. Soaking Mazuri tortoise chow and combining it with the greens is highly recommended. This approach compensates for the lack of real UVB during indoor months. For healthy baby tortoises, Tortoise Town is your one-stop shop!
Sri Lankan Star Tortoise Lighting and UVB
Providing your baby Star tortoise with proper UVB levels is crucial for their growth. UVB enables them to produce and absorb vitamin D, while calcium absorption decreases with insufficient UVB exposure. To ensure your tortoise grows strong and healthy, provide them with ample amounts of Vitamin D through a T5 high-output UVB lamp. Remember, your light source isn't always a heat source. Consider using a heat panel, ceramic heating element, or additional spot lamp-style heater for warmth.
Baby Star Tortoise for Sale – Heating
Maintaining the right temperatures in the Sri Lankan Star tortoise habitat is important for their well-being. We recommend using heat panels or Ceramic Heat Emitters (CREs) to keep the hot spot around 92 degrees Fahrenheit. The colder end of the enclosure should be kept between 77-80 degrees Fahrenheit at all times. During the evening, temperatures can drop to 75-77 degrees Fahrenheit, as long as the humidity remains adequate and air movement is low. If humidity drops below 60%, aim for temperatures around 80 degrees Fahrenheit.
Baby Sri Lankan Star Tortoise Water
Always make sure to provide your baby Sri Lankan Star tortoise with access to fresh, shallow water. Even if you have a juvenile or young adult tortoise, water access is still crucial. For baby stars, we suggest soaking them twice a day for 7 minutes each time in super shallow water. Just be careful while soaking them, as they can drown quickly!
Sri Lankan Star Tortoise Food
At Tortoise Town, we feed both our baby and adult tortoises a combination of a wide variety of greens and veggies. Our daily "chopped salad" includes collard greens, mustard greens, yellow squash, softened and soaked Mazuri tortoise chow, shredded carrots, and the occasional tomato.
Baby Star Tortoise for Sale
Baby Sri Lankan Star tortoises are undeniably adorable, but they require proper care to thrive. When setting up their habitat, humidity is key. Our biologist recommends high humidity and limited air flow for optimal success. While it was once believed that most Star tortoise species, including the Sri Lankan, required very dry air, we have discovered that humid air is essential for the well-being of baby Sri Lankan Star tortoises.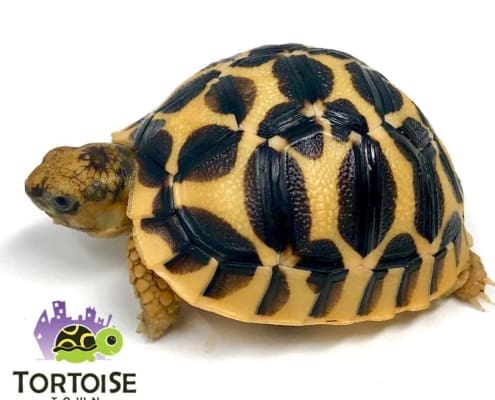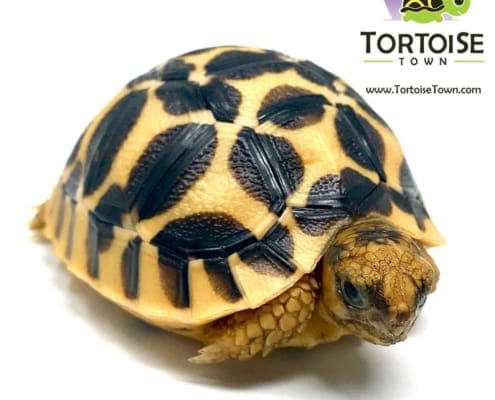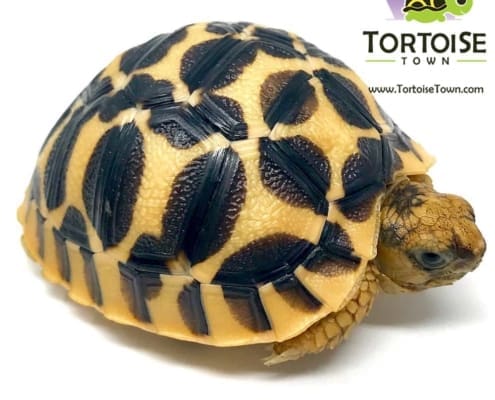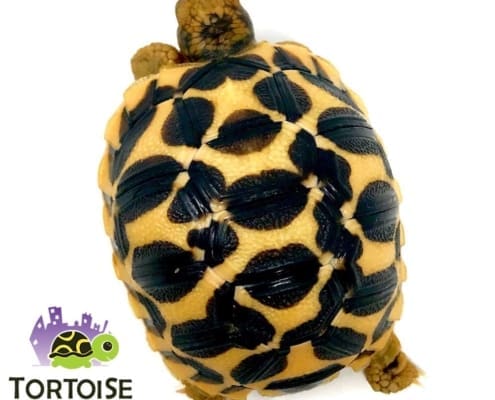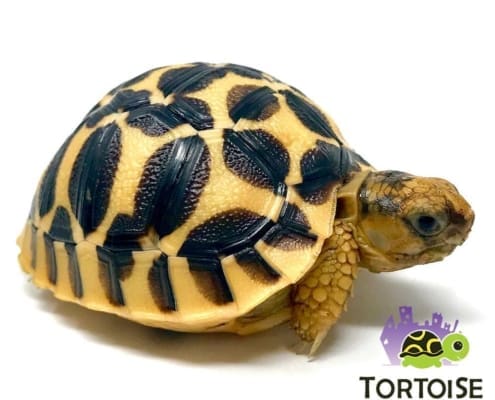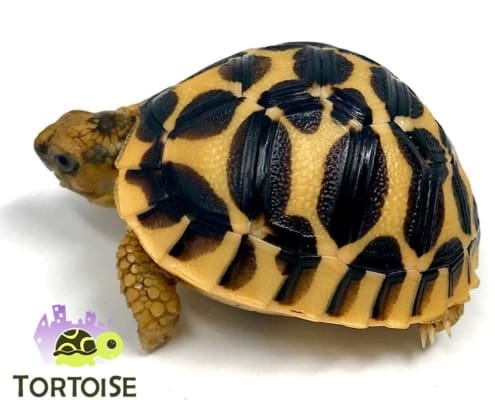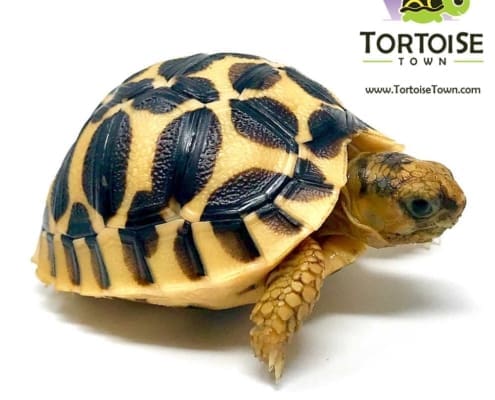 For more information on Sri Lankan Star tortoises and to purchase one of these delightful creatures, visit DHPL Travels.