Introduction
Sri Lanka, with its abundant spice offerings and a rich history of the spice trade, is renowned for its mouthwatering and authentic cuisine. If you have a palate that craves diverse flavors and aromas, experiencing Ceylon cuisine is an absolute must. Ceylon spices are known for their enticing fragrance, delicious taste, and the ability to elevate any dish to new levels of texture and complexity.
The Top 11 Essential Ceylon Spices
Sri Lankan cuisine has captivated the hearts of food enthusiasts worldwide with its distinctive and flavorful dishes. Spices play a vital role in Sri Lankan recipes, especially in curries and savory dishes. One iconic blend, the "Roasted/Unroasted Curry Powder (Thuna-Paha)," is a staple in many spicy creations. If you visit a Sri Lankan home, you'll notice a dedicated place in their kitchen reserved for a variety of Ceylon spices.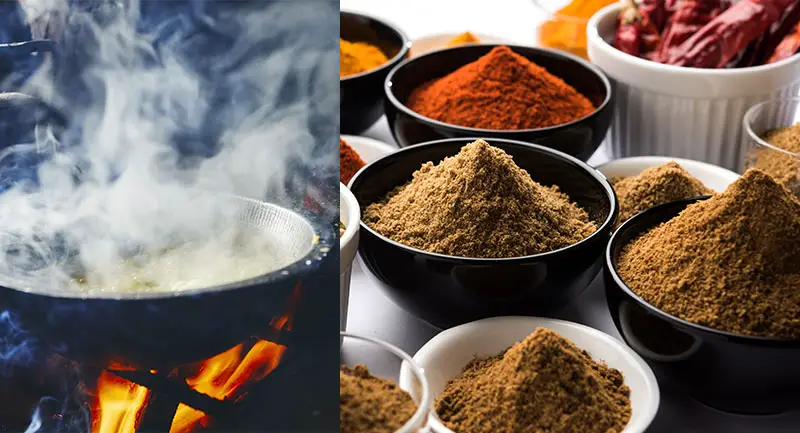 Apart from their culinary uses, these spices also possess remarkable medicinal properties and are often used in traditional home remedies. Now, let's explore the 11 essential Ceylon spices that contribute to the uniqueness of Sri Lankan cuisine.
01 – Cinnamon (Kurundu – කුරුඳු)
A Sri Lankan curry without a touch of cinnamon is considered incomplete. Sri Lanka is the world's largest producer and exporter of cinnamon, and Ceylon Cinnamon is renowned for its superior quality compared to other varieties. It adds a distinctive flavor, hue, and aroma to meat, fish, seafood, dal, and vegetable curries. Cinnamon is available as quills or in powdered form, and it is also consumed as a herbal tea with various health benefits.

02 – Red Chili (Rathu Miris – රතු මිරිස්)
Red chili is a vital flavor enhancer and colorant in Sri Lankan cuisine. It provides the heat and intensity to most spicy curries and savory dishes. Sri Lankans use dried red chili, chili powder, and crushed chili flakes to infuse their dishes with fiery flavors. Besides red chili, varieties like green chili, bird's eye chili, and "Nai Miris" are also popularly used. These spices add an extra kick to chutneys, curries, and pastes.
03 – Black Pepper (Gammiris – ගම්මිරිස්)
Black pepper holds a special place in Sri Lankan cuisine, adding a robust floral note to meats and sautéed vegetables. It pairs perfectly with salt as a seasoning agent and lends spiciness and aroma to various dishes. Available in powdered form or as whole peppercorns, black pepper is widely used in Sri Lankan kitchens and is even believed to have medicinal properties.
04 – Cloves (Karambu Nati – කරාබු නැටි)
Cloves are an essential spice in Sri Lankan dishes, imparting a rich and aromatic flavor. Sri Lankans crush whole cloves and incorporate them into meat and fish curries, vegetables, curry powder, and sweetmeats. Cloves are also known for their oral health benefits and have been used for toothaches and gum problems since ancient times.
05 – Cardamoms (Enasaal/Karandamungu – එනසාල් / කරදමුංගු)
Cardamom, available in white and green varieties, is a widely used and slightly expensive spice in Sri Lankan kitchens. It has a refreshing mint-like flavor and is predominantly used as a whole pod, mildly crushed. Cardamoms enhance the taste of curry, sauces, gravies, and sweetmeats. They are also rich in vitamins and possess several health benefits.
06 – Coriander (Kottamalli – කොත්තමල්ලි)
Coriander is a staple ingredient in Sri Lankan cuisine, forming the base of their curry powder blend. With its mild fragrance and earthy flavor, coriander seeds are dry roasted and ground into a fine powder. Fresh cilantro leaves are also commonly used as a garnish. Besides its culinary uses, coriander is known for its medicinal properties, including cold relief and immunity-boosting antioxidants.
07 – Turmeric (Kaha – කහ)
Turmeric, a vibrant yellow spice, is indispensable in Sri Lankan kitchens. It adds a complex flavor, intense color, and a distinct aroma to various dishes. Sri Lankans rarely prepare a dish without turmeric, as it is considered an essential ingredient. Apart from enhancing flavors, turmeric is renowned for its medicinal value and is used to treat various skin conditions.
08 – Fenugreek (Uluhaal – උලුහාල්)
Fenugreek provides a bitter, earthy taste and complements the flavors of other spices in Sri Lankan dishes. It is used in moderate amounts and pairs well with curry leaves, pandan leaves, and lemongrass. Sri Lankans often use powdered fenugreek instead of whole seeds. This spice is known for its blood sugar-lowering properties and other health benefits.
09 – Nutmeg (Saadikka – සාදික්කා)
Nutmeg adds an intense flavor to both savory and sweet Sri Lankan dishes. Grated nutmeg is commonly used, and it imparts a wonderful touch to curries, sweets, and curry powders. Traditionally, Sri Lankans have used nutmeg with lime juice to alleviate stomachaches. This spice is highly versatile and blends harmoniously with other flavors.
10 – Mustard Seeds (Aba – අබ ඇට)
Mustard seeds, available in different colors, are used extensively for tempering dishes in Sri Lankan cuisine. They offer a sharp and slightly bitter taste, enhancing the flavors of various preparations. Mustard seeds are also used in pickle recipes and are known for their health benefits, such as relieving muscular pains.
11 – Cumin (Sooduru – සූදුරු)
Cumin, with its soothing and earthy flavor, has been a key spice in Sri Lankan cuisine for centuries. It forms an essential part of the curry powder blend and is slightly crushed before adding to curries and sweets. Cumin is often used in its ground form and pairs well with mustard seeds. Sri Lankans also consume boiled cumin water to alleviate urinary tract infections.
Ceylon Spices: A Unique Culinary Heritage
Sri Lanka, a tiny teardrop-shaped island, is renowned for its unique culinary heritage, which heavily relies on locally cultivated spices. Alongside the 11 essential spices, Sri Lanka is also famous for growing spices like fennel seeds, mace, curry leaves, ginger, garlic, pandan leaves, and lemongrass. However, Ceylon Cinnamon stands out as the only native spice to the island. These spices not only add incredible flavors but also possess significant therapeutic properties.
The Spicy Conclusion…
Sri Lanka's vibrant spices form the heart and soul of its cuisine, offering a culinary journey like no other. From the unparalleled aroma of Ceylon Cinnamon to the fiery heat of red chili, these spices have a profound impact on Sri Lankan dishes. So, why not explore and experiment with these Ceylon spices in your next culinary adventure?
Sources:
Dept. of Export Agriculture Sri Lanka