Introduction
Sri Lanka, a beautiful island in the Indian Ocean, holds a captivating history that goes beyond its stunning landscapes and rich culture. This enchanting land is intricately connected to the legendary figure of Ravana, a character revered in Hindu mythology. In this article, we uncover a different side of Ravana, shedding light on his lesser-known qualities and contributions.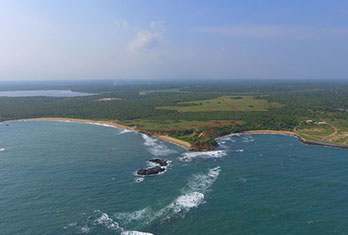 A Complex King
Ravana, the ruler of Sri Lanka, is often portrayed as a tyrant in Indian folklore. However, Sri Lankan lore presents a contrasting image of this enigmatic king. Described as a devout follower of the god Shiva, Ravana was known for his deep spirituality and musical talent. Legend has it that he even created a unique musical instrument called the ravanhattha, using his own arm as a string. Through this instrument, he sang melodious praises to Shiva, evoking divine forgiveness.
The Roots of Ravana
According to Hindu mythology, Ravana was born into a prestigious lineage. His father, the sage Vishrava, and mother, Princess Kaikesi, hailed from noble backgrounds. Ravana's siblings included Vibhishana, Kumbhakarna, Ahiravana, and a step-brother named Kubera, whom he eventually seized the Kingdom of Lanka from.
Lanka: Ravana's Majestic Realm
The city of Lanka, a marvel created by the celestial architect Vishwakarma, was Ravana's domain. Although he acquired this kingdom through force, he proved to be a benevolent and accomplished ruler. Under his leadership, Lanka flourished, and Ravana embarked on numerous conquests, expanding his influence over humans, celestials, and demons.
The End of an Era
Ravana's reign lasted for several hundred years before the legendary events of the Ramayana unfolded. It was during this time that Prince Rama, accompanied by his loyal devotee Hanuman, confronted Ravana to rescue his beloved wife, Sita, who had been abducted. Ultimately, Ravana met his demise at the hands of Rama, marking the end of an era.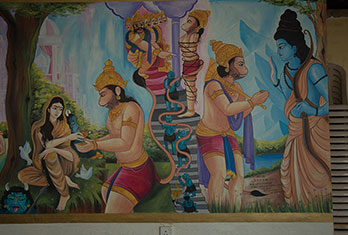 Ravana's Legacy
While some consider the events of the Ramayana to be a partly fictional tale, Sri Lankan folklore attributes great advancements in science and medicine to Ravana's reign. Legend speaks of his remarkable flying machine, the pushpaka vimana, which exemplified the remarkable scientific achievements of his time. Additionally, Ravana is revered as a skilled physician, with seven books on Ayurveda attributed to him. He is also believed to have authored the Ravana Sanhita, an anthology of Hindu astrology, further emphasizing his vast knowledge and intelligence.
Legends and Landmarks
The legend of Ravana has left an indelible imprint on Sri Lanka. Numerous sites across the country are associated with his story, captivating locals and visitors alike. Places like Sita Elisa, Kuragala, and Rahalgala serve as reminders of the princess's prison, while Wariyapola and Horton Plains are believed to be the very spots where Ravana's flying machine landed. Additionally, Rumassala, a mountain peak abundant with medicinal plants, stands as a testament to Ravana's extraordinary feats. Adam's Bridge, a natural formation connecting India and Sri Lanka, is also linked to Ravana, with Sri Lankan historians asserting that it was his creation, enabling the passage of his armies.
A Different Perspective
As with many historical figures, there are conflicting interpretations of Ravana's life and deeds. Some even propose that Ravana was a Buddhist king, attributing the creation of monasteries in Sri Lanka to him. These diverse viewpoints create a tapestry of intrigue and invite us to explore the multifaceted legacy of this legendary king.
To discover more about the remarkable tale of Ravana and his connection to Sri Lanka, visit DHPL Travels for an unforgettable journey into the heart of this captivating land.
Note: This article is based on legends and historical interpretations and should be approached as a fascinating exploration rather than a definitive account.