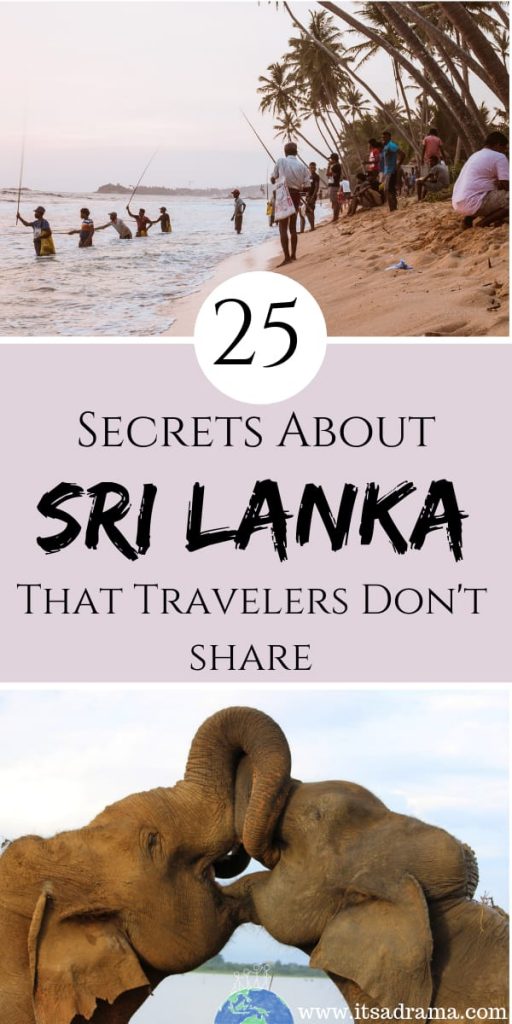 There's something extraordinary about Sri Lanka that captivates travelers. From its stunning landscapes to its rich cultural heritage, this small island in the Indian Ocean offers a plethora of breathtaking experiences. Whether it's the exhilarating train journey, close encounters with elephants, or climbing Adam's Peak, Sri Lanka is full of surprises. But beyond the well-known attractions, this unique travel destination has hidden gems that even the best travel blogs won't tell you about.
Sri Lanka Travel Blog: Everything You Need To Know
During our 25-day adventure in Sri Lanka, my family and I were amazed at how budget-friendly our trip turned out to be. Despite dining out and taking a fancy train ride to the picturesque town of Ella, we spent a pittance. If you're concerned about your expenses, you can check out how much we spent in Sri Lanka here.
Flying To Sri Lanka From America
Flying to Sri Lanka from the United States is incredibly easy, especially if you know a few airport hacks. We flew directly from JFK using Kuwait Airlines, and despite the long 17-hour flight, it was a comfortable journey. If you're flying from the UK, the flight takes approximately 12 hours, while it's just a short one-hour hop from India. Contrary to my initial assumptions, reaching Sri Lanka is a breeze.
The First 24 Hours: What To Expect
Arriving at Colombo Airport at 3 am, we were pleasantly surprised to find it bustling with activity. Even at such an odd hour, the airport operated at full speed, eradicating any concerns about delayed services. As we stepped into the arrivals area, we quickly realized that worrying about how much money to bring was unnecessary. Sri Lanka is incredibly affordable, and your dollar can go a long way.
Things To Buy At Colombo Airport
As soon as we arrived, we purchased a SIM card and data, which was both cheap and easily accessible. The kiosks in the arrivals area offered a variety of options, with the best deals found on the far left. Our $12 purchase provided us with 5GB of daytime data, 5GB of nighttime data, and 120 minutes of call time. We found the SIM card to be extremely useful throughout our stay. If you require even more data, consider investing in a portable WiFi router. For around $8 a day, you'll have unlimited data access not only in Sri Lanka but also in 122 other countries.
Currency exchange was another worry that quickly evaporated upon arrival. Colombo Airport is filled with money exchange booths that are open even during the wee hours of the morning. Whether you have foreign currency or a Visa card, exchanging money won't be an issue.
If you're in the mood for some shopping, the airport offers more than just typical souvenirs. From liquor and chocolate to even kitchen appliances, you'll find a wide variety of products to choose from.
Late Night Transport From Sri Lanka Airport
Transportation from the airport shouldn't be a cause for concern. Uber is available in Colombo and can save you a fortune while traveling in Sri Lanka. However, it's advisable to book in advance, as availability can be sporadic, especially during the early hours of the morning. Alternatively, you can opt for a tuk-tuk, which we found to be a convenient and affordable mode of transportation. With a cost of 1000 Sri Lankan rupees (around $7) for a 20km ride, tuk-tuks are easily accessible and can accommodate passengers with luggage.
Leaving Colombo Airport and Stepping Into Sri Lanka
Stepping out of the airport is a delightful experience, albeit slightly nerve-wracking at first. As we made our way to our accommodation, we soon realized the kindness and hospitality of the Sri Lankan people. Locals were helpful and genuinely interested in conversation, rather than hassling tourists. It's important to note that when booking accommodations in Sri Lanka, guest houses or villas are recommended over resorts, unless you are willing to pay top prices for an all-inclusive experience.
However, we did encounter a minor setback when the resort hotel we booked wasn't as advertised on Wotif. Thankfully, we quickly found an alternative through Agoda, a user-friendly hotel search engine. The new guest house provided a clean, friendly, and inexpensive stay, and the owner even accommodated our 4 am arrival. We learned the importance of contacting guest houses or hotels in advance, as owners are typically willing to pick you up from your location.
25 Surprising Things About Sri Lanka
Now, let's delve into the 25 surprising things that make Sri Lanka an exceptional travel destination:
The owner of our guest house was readily available even at 4 am, showcasing the genuine warmth of the Sri Lankan people.
The familiar tune of Beethoven's Fur Elise filled the air every morning, courtesy of a local bakery tuk-tuk selling freshly baked goods.
A delicious Sri Lankan breakfast prepared by the guest house owner cost only $3 per person, a testament to the affordability of Sri Lanka.
It's advisable to bring your own towel, as guest houses rarely provide them.
Sri Lanka has a distinct aroma, a mix of curry leaves, cinnamon, and the smoke from burning leaves.
Surprisingly, women are not allowed to purchase alcohol in Sri Lanka.
However, guest house owners may go above and beyond to acquire alcohol for their guests, even if it means a trip to the local shops.
Wine is a rare find in restaurants and supermarkets, so if you're a wine enthusiast, be prepared to pay a premium or opt for the local Lion beer instead.
The tuk-tuk drivers in Sri Lanka are not pushy and are respectful when declined.
Booking train journeys in Sri Lanka is a breeze, and the train rides are a highlight of any visit.
The train station locals are curious about cricket rankings and may engage in unexpected conversations.
Second-class train tickets do not guarantee a seat, so be prepared for a possible journey on the floor—nonetheless, the experience is worthwhile.
Families utilize the side of the railway tracks for activities such as hanging out and drying laundry.
Schoolgirls across Sri Lanka wear beautiful white dresses, creating a charming sight.
Sunscreen in Sri Lanka is quite expensive, so it's advisable to carry your own supply.
Tooth floss is hard to find in Sri Lanka, so remember to bring an ample supply.
The Marissa beach is divided into two segments, with European drinkers on one side and yoga enthusiasts on the other.
Exploring Colombo with a private tuk-tuk guide is not only affordable but also provides valuable insights into the city.
Flying a drone in Sri Lanka requires a license, so exercise caution if you plan to capture aerial footage.
Our World Wifi Cafe on Marissa Beach offers the best fruit smoothies and an extensive pot of green tea.
Cold cans of Coke, water, and Fanta are readily available from vendors walking up and down the train, adding to the charm of train journeys.
Umbrellas are a common sight in Sri Lanka, serving as protection from both the sun and unexpected showers.
Sri Lanka's internet can be unreliable, so be prepared for occasional challenges when working online.
The air in Sri Lanka is warm, fragrant, and accompanied by swaying palm trees laden with fruits.
When taking local buses, a conductor hangs out of the open door, ready to assist passengers with directions.
Throughout our trip, we discovered countless surprises about Sri Lanka, making it an underrated and unique destination. The ease of transportation, budget-friendly experiences, and friendly locals made our visit truly remarkable.
So if you're planning your next adventure, consider Sri Lanka. It's a paradise waiting to be explored, offering an abundance of beauty, culture, and surprises.
DHPL Travels: Discover Sri Lanka, a land of surprises and breathtaking experiences.