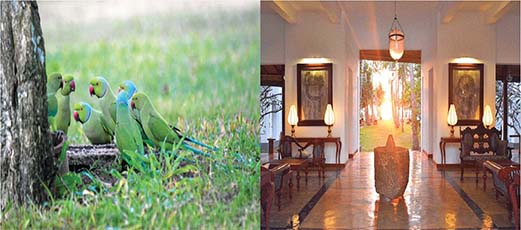 Welcome to the Privilege Ayurveda Resort, a haven of serenity nestled along the picturesque southern coast of Wadduwa. Embark on a journey of relaxation and rejuvenation in this exquisite seaside setting, encompassing a 3.5-acre chemical-free garden that plays host to a vibrant array of 22 bird species. As you enter this tranquil oasis, you will find yourself enveloped in privacy and cared for with unparalleled attention.
A Legacy of Excellence
The Privilege Ayurveda Resort has stood the test of time, boasting a remarkable 19-year history. From its inception, it has been synonymous with innovation and refinement, positioning itself as Sri Lanka's first 'all-suite' hotel. Pioneering the concept of freedom dining, the resort allowed guests to shape their culinary experience according to their biological clock. From an indulgent American breakfast to elaborate five and seven-course meals, every dining occasion was designed to be a delight for the senses.
In 2011, recognizing the evolving needs of discerning travelers, the Privilege Ayurveda Resort embarked on a transformative journey. Embracing the world of health and wellness, the resort reimagined itself as a sanctuary for holistic healing. In doing so, it set new standards by becoming an in-house guests-only retreat, bidding farewell to fine wines and cigars and welcoming a new era of serving authentic herbal medicine and treatments. Constantly evolving to exceed expectations, the resort has undergone several refurbishments, including the recent introduction of a new category of super deluxe rooms in 2020.
Unparalleled Care and Natural Harmony
What truly sets the Privilege Ayurveda Resort apart is the intimate care and attention bestowed upon each guest. Designed by a protégé of acclaimed architect Geoffrey Bawa, the property immerses you in a luxurious ambiance that aligns seamlessly with its seaside setting. Surrounded by breathtaking beauty and a chemical-free environment, the resort accommodates only a limited number of guests at any given time, ensuring an exclusive and intimate experience.
Central to the resort's ethos is its commitment to offering fresh and wholesome cuisine. The meals are meticulously prepared using natural ingredients sourced from their own plantation and local suppliers. Embracing social responsibility, the resort provides employment opportunities to the local community, enhancing their quality of life. With no microwaves, deep freezers, or bottle openers in the kitchen, the authenticity and freshness of the food and beverages are guaranteed, as each dish and drink is prepared individually for guests.
A Himalayan Retreat in Sri Lanka
The Privilege Ayurveda Resort takes pride in pioneering "Ayurveda holidays," providing guests with ancient treatments and medicinal practices that balance the body's "doshas." Through a range of cleansing, detoxification, and weight loss programs, overseen by the resort's in-house doctor, guests can experience rejuvenation of both body and mind. Moreover, the resort's expert yoga guru guides guests in managing stress and embracing the aging process, facilitating a transformative lifestyle change.
Guests can choose from a variety of stays, ranging from a minimum of one night to a maximum of 14 nights. During their stay, they are treated to a full board experience, featuring delightful Sri Lankan or Western breakfasts, four-course lunches, and five-course dinners. As an added bonus, guests enjoy three daily treatments, specially curated to revive and invigorate the mind and body. Conveniently located near Colombo and easily accessible via the highway, the Privilege Ayurveda Resort beckons as the ideal destination for a rejuvenating beach staycation.
Indulge in the enchantment of the Privilege Ayurveda Resort, where ancient wisdom meets modern luxury, and discover a world of pure bliss and holistic wellness. Escape from the confines of everyday life and embark on a transformative journey like no other.
To learn more about the Privilege Ayurveda Resort, visit DHPL Travels and let the magic unfold.