Introduction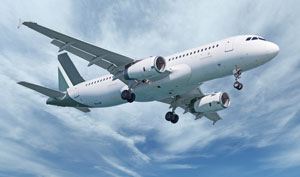 Travel allows us to broaden our horizons and experience new things. With peritoneal dialysis (PD) or home hemodialysis (HD), you have the freedom to bring your dialysis machine on a plane and continue your treatments while exploring the world. In this article, we will provide you with valuable information on supply shipping, your rights while traveling, navigating airports and hotels, and useful resources.
Plan Ahead for Your Treatments
To ensure a smooth trip, a little bit of upfront planning is necessary. Here are some key considerations:
Sort Out Your Supply Shipping
If your trip will last longer than a day or two, you will most likely need to ship dialysate and other supplies. These items should be properly packed in their company boxes with clear labels. Start by consulting your care team, specifically your nurse, who will assist you in placing your supply order. It's important to have this discussion well in advance of your flight:
For free supply shipping within the continental U.S. with Fresenius, you will need to provide a minimum of 2 weeks notice. Reference: Traveling on dialysis (Retrieved 03/03/22).
For free supply shipping within the continental U.S. with Baxter, you will need to provide a minimum of 6 weeks notice. Reference: Traveling with peace of mind (Retrieved 03/03/22).
Traveling outside the continental U.S. may require 6-8 weeks lead time or even longer, depending on your destination. You will also be responsible for covering the shipping costs for your supplies.
If you have less lead time, you may incur additional fees for expedited supply orders and delivery. These fees will need to be paid in advance, and any changes to your order may also incur change order fees. Keep in mind that weekend, evening, holiday, and special delivery services may come with additional costs. Reach out to your supply company for detailed information regarding your specific trip. Some individuals have chosen to find their own carriers to ship supplies, which requires extra effort but can help reduce costs. This option has been successfully used for trips to Hawaii, the Dominican Republic, Aruba, Europe, and other Caribbean destinations. Alternatively, if available, it may be more cost-effective to rent a NxStage machine in the country you're visiting.
Make sure to communicate the following details to your nurse:
Your travel dates.
The quantity of supplies you will need (consider including some extras).
The name, address, and confirmation number of your hotel, if applicable.
The address and contact information of your accommodations, in case it is not a hotel.
It is your responsibility to follow up and ensure that everything goes according to plan:
One week before your trip, call your supply company to confirm that your order has been sent.
Call again just before your departure to track the progress of your shipment.
If you are taking a cruise, ensure that your supply order is on board before the ship leaves the dock.
Contact your hotel to verify that your order has been received. Confirm that they have the correct number and type of boxes. (Consider requesting a photo of the label for reference.)
If you won't be staying in a hotel, contact your supplier and the carrier to confirm the date and time of your shipment's arrival. Request a call on the morning of delivery and when they are 30 minutes away. If they fail to call, check with your clinic or supplier. You don't want to spend your travel time chasing down your supplies!
Consider insuring your machine for damage or loss. Discuss this with your clinic, homeowner's insurance provider, and the company. It is advisable to have a travel health plan, which is generally affordable and recommended for any travel, especially if you are leaving the country.
Arrange for Backup Care
It's always a good idea to identify a nearby backup center in case you encounter any issues or forget to bring necessary supplies. Your home training nurse or social worker can assist you in finding a suitable backup center. Additionally, familiarize yourself with the location of local hospitals.
A PD Cycler or NxStage Machine Flies for Free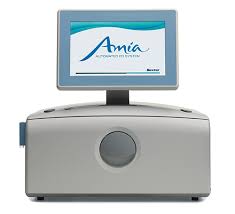 Great news! You can bring your PD cycler or NxStage machine with you on a plane without any additional fees. However, not all airline staff are aware of this, so you may encounter some difficulties. It is crucial to be aware of your rights:
The Air Carrier Access Act (ACAA) of 1990, which applies to flights to and from the U.S., prohibits airlines from discriminating against individuals with disabilities. The U.S. Department of Transportation (DOT) is responsible for enforcing the ACAA. Home Dialyzors United requested that the DOT clarify the rights of individuals traveling with dialysis machines. On June 3, 2013, the DOT issued a notice stating the following:

Your machine is considered an "assistive device" (Section 382.3).
The airline must allow you to bring your machine on board for PD or check it as luggage for NxStage machines (382.121(a)).
Your machine does not count towards the carry-on bag limit (382.121(b)).
If you pre-board and check your machine, it takes priority over other bags if space is limited (382.123(a)).
The airline cannot charge you a fee for your machine in the cabin or as checked luggage (382.31(a)).
Your machine must be portable, weighing 100 lbs. or less with the case (382.1(c)).
If the airline loses or damages your machine within the U.S., baggage liability limits do not apply. They are required to compensate you based on the machine's value (382.31). However, note that outside of the U.S., the limit is only $1,685, which may be significantly less than the machine's actual cost.
The airline must allow you to bring your medications, syringes, and dialysate on board (382.2). However, there is a restriction of carrying only a 1-2 day supply. If you need more, you will need to ship it separately.
It is not permitted to use your machine during the flight, as it has not been tested and could potentially interfere with the plane's navigation or communication systems (382.121(a)(3)).
Other Fees and Costs
Hotels Charge Fees to Receive Packages
If you plan to stay at a hotel, we recommend contacting the Bell Captain or a manager in advance. Inform them that you will be shipping essential medical supplies for your stay and kindly ask if they can waive the fee associated with receiving and storing your boxes. If they are unwilling to waive the fee entirely, see if they can charge a single fee for your entire order. It is essential to obtain written confirmation from the hotel if they agree to assist you.
Bring Cash for Tips
You may require assistance in handling your machine or supplies at various stages of your journey. It is customary to tip individuals who help you, with a general guideline of $1-2 per suitcase or box and $5-10 for a machine (based on weight). Take some time to consider your travel plans and estimate how much cash you should bring. Here are a few scenarios where you might need to tip someone:
Loading supplies at home before heading to the airport.
Unloading supplies at the airport for your flight.
Collecting supplies from baggage claim and transporting them to a taxi or shuttle.
Unloading supplies and transporting them to your lodging.
Bringing supplies up to your room in a hotel.
Note: Some airports do not have Skycaps available to assist with heavy luggage, or their services might not be available at all times. To avoid any inconvenience, refer to the airport's website or contact them in advance to obtain accurate information.
A Week Before You Fly…
Taking two simple steps before your departure can significantly contribute to a smoother travel experience:
Call the airline's Disability Desk and request that they add a note to your travel file indicating that you will be bringing a dialysis machine. Inform them about the weight of the machine in its case. For instance, a NxStage System One in a hard case weighs approximately 99 lbs. PD cyclers typically weigh less. It is advisable to have this note added in advance.
When you call the airline, request a wheelchair service, even if you do not normally use one. This will notify the counter agent that you have specific healthcare needs. This step has several advantages, including expediting your passage through TSA security, pre-boarding privileges, ease of changing planes, and receiving assistance in locating a Skycap at the baggage claim area.
What to Pack for PD or Home HD
To ensure that you have everything you need for your dialysis treatments while traveling, create a checklist as you perform each treatment in the days leading up to your trip. Additionally, consider seeking advice from fellow travelers, as they often have valuable insights to share.
PD Cycler or NxStage Machine
Measure the dimensions of your machine in its travel case. If your PD cycler fits within the size restrictions for carry-on items, you can bring it inside the cabin. Otherwise, it will need to be checked. Conversely, a NxStage System One can only be transported as checked luggage. Remember that you can check one bag of supplies for free. Ensure that this bag meets the airline's size and weight regulations and contains only medical supplies.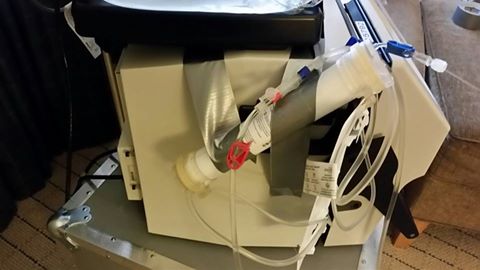 Treatment Supplies
Consider packing a large Ziploc bag with supplies for each treatment you plan to perform. Some centers may be willing to add these bags to your supply orders, so it's worth inquiring. Pack an extra bag and include spare items such as gloves, tape, etc., to ensure you don't run out unexpectedly. As a last resort, duct tape can be a useful item to have on hand. If you prefer not to bring an IV pole, you can use camping clips (carabiners) to hang the bags. For warmth, pack an electric heating pad to warm PD bags.
Medications and Syringes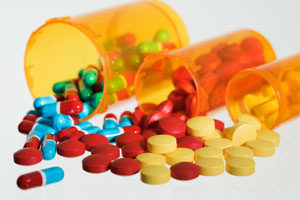 It is always a good idea to plan for the possibility of lost or delayed luggage. Therefore, it is recommended to carry your medications in your carry-on bag and not in checked luggage. Remember that airplanes do not have refrigeration facilities, so if you have medications that require refrigeration, consider purchasing a small portable cooler designed for this purpose. Many of these coolers are affordable, with prices under $20.
While there is no specific limit on the number of empty syringes you can bring, remember to bring the corresponding drugs along with you. Ensure that the drugs have their original printed labels.
Essential Paperwork
Apart from your identification, hotel and flight plans, make sure to bring the following documents:
Your airline's policy regarding dialysis machines. Look for the "Disability" section on their website.
The DOT rules related to dialysis machines on airplanes.
Your dialysis prescription.
The contact information for your home clinic.
Your most recent lab test results.
Recent hepatitis B or C test results.
A comprehensive list of all prescription drugs you are currently taking, including dosage information.
Your supply order details for the trip, as well as the destination.
The contact information for any clinics or hospitals you may need to reach out to during your trip.
Any documentation from the hotel confirming the charges for receiving packages.
Travel Tip
Arrive at the airport at least 2 hours before your flight to allow sufficient time and avoid rushing. If you are traveling outside the U.S., aim to be at the airport 3 hours before departure.
Checking in at the Airline Counter
As you now know, you are entitled to bring your dialysis machine and a bag of medical supplies for free. However, some counter staff may not be aware of these regulations. If you encounter any challenges, follow these steps:
Stay calm and provide the staff member with the relevant information. Show them the DOT policy.
If the situation does not improve, write down the agent's name for future reference. Request to speak with a supervisor or a Complaint Resolution Official (CRO). Obtain the name of the CRO as well.
If the CRO fails to address the issue, call the airline's disability desk while you are at the counter.
Alternatively, between 9am-5pm Eastern Time on weekdays (excluding holidays), you can contact the DOT hotline at (800) 778-4838 (or (800) 455-9880 for TTY). The DOT's CROs are well-versed in the Part 382 rules.
If you are still unable to resolve the situation or have been kept at the counter for an extended period, you may consider paying the fee (if possible) and retain the receipt and any relevant notes. Upon returning home, you can file a complaint with the DOT using one of the following methods:

Online: DOT Consumer Complaint Form
Mail: Aviation Consumer Protection Division, C-75, U.S. Department of Transportation, 1200 New Jersey Ave. S.E., Washington, D.C., 20590.
Getting Through Airport Security
If it has been some time since your last flight, please take note of the following changes:
Access to the gate area is only granted to individuals with a valid ticket for a same-day flight.

You will need to present a boarding pass and a valid form of identification. A passport is universally accepted, while certain U.S. government-issued trusted traveler cards (such as Global Entry, Nexus, Sentri, and FAST) are also valid. Please be aware that, as of 2018, a driver's license alone is insufficient for air travel in some U.S. states. Refer to the DHS Real ID website for further information.

Luggage is screened using X-ray machines. You will be required to place your carry-on bags on the conveyor belt for X-ray scanning. Laptops and liquids in a Ziploc bag must be placed in separate bins. Additionally, you should remove your outer jacket and place it in a bin. The X-ray process will not harm your dialysis machine. To avoid any issues related to carrying syringes, it may be helpful to inform the TSA agent beforehand. Here are a few tips:

If you are under 75 years old, you must remove your shoes and place them in a bin during the screening process. Wear slip-on shoes if possible, and request a chair if you require one.
Ask for assistance if you need help lifting your PD cycler onto the conveyor belt. Many TSA agents have never encountered one before. It might be useful to bring the machine's manual or a letter from your doctor explaining its purpose.
You will need to remove your belt and empty your pockets into a bowl for inspection. Wearing gold or silver jewelry is usually permitted unless it is excessively large.

YOU will be required to pass through a screening machine. This machine uses electromagnetic waves, not X-rays, to detect weapons. Inform the TSA agent if you have any concealed medical devices, such as a PD catheter, pacemaker, prosthetic limb, steel plate, or ostomy bag, to name a few. The screening process involves the following:

You will need to step into the screening machine, or you have the option to "opt out" and undergo a pat-down search conducted by a TSA agent of your same sex. The pat-down is performed outside of your clothing to check for any concealed weapons. If the screening machine detects an item such as a PD catheter, a pat-down will be required.
If you are unable to stand or walk unassisted, inform the TSA agent, and they will conduct a pat-down search. This can also be performed in a private room if necessary. Keep in mind that this process may take extra time (see 4.10 of the regulations).
Preboard the Plane
When boarding begins, the gate agent will announce the preboarding of passengers who require assistance or extra time to board the aircraft. Join this group to give yourself ample time to settle in and stow your machine, provided it fits within the size requirements. Inform the gate agent about your cycler, referring to it as an "Assistive Device." PD cyclers are given priority for overhead bin space. If you need assistance in placing your cycler on board and securing it, don't hesitate to ask for help. Some planes have small overhead bins, in which case a flight attendant may agree to store your cycler in a closet located at the front of the aircraft.
Get Your Supplies to Your Lodging
When you have a heavy machine or numerous boxes, look for a Skycap with a large cart. They will assist you in retrieving your items from the baggage claim area and load them onto the cart. They can also help you find a taxi and load the items into the trunk.
If your hotel or rental car shuttle is located a fair distance away, make sure to plan accordingly, especially if you have 200 lbs. of luggage and supplies. If you are traveling with a companion, one person can wait while the other picks up the car. Alternatively, consider taking a van taxi to your hotel. For frequent solo travelers, a folding travel cart might be a worthwhile investment, as some models can support up to 300 lbs.
Travel Resource Sites
Dialysis Companies:
American Renal Associates
Baxter
DaVita
Dialysis Clinics Incorporated (DCI)
Fresenius
Northwest Kidney Centers
NxStage Nxpeditions
Satellite/WellBound
US Renal Care
Airlines:
Alaska Airlines – [Disability page]
American Airlines – [Disability page]
Delta Airlines – [Disability page]
Jetblue – [Disabilities page]
Southwest Airlines – [Disability page]
United Airlines – [Disability page]
U.S. Department of Transportation:
Conclusion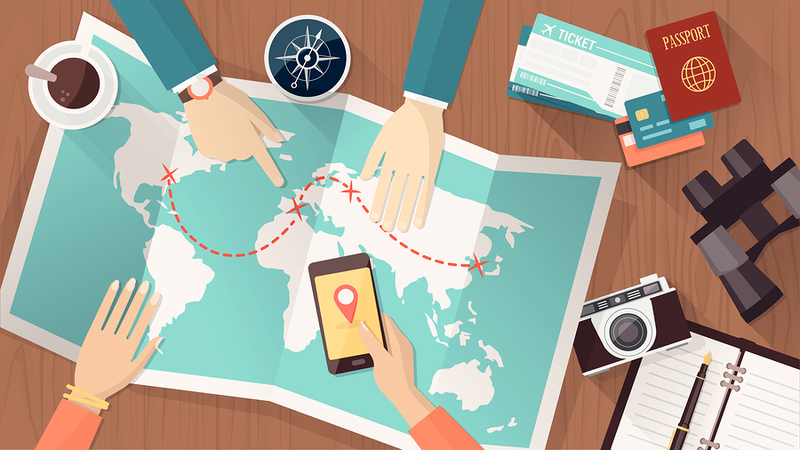 Traveling can require extra effort when you have dialysis requirements. However, the rewards and experiences it offers are often well worth it. With proper planning and awareness of your rights, you can explore the world while continuing your treatments. So pack your bags, make your arrangements, and embark on an adventure with the confidence that your dialysis machine can travel with you every step of the way.
---
Please note that the information provided in this article is for educational purposes only and should not replace or be considered a substitute for medical advice. Always consult with your healthcare provider for personalized guidance and recommendations regarding your specific medical condition.
DHPL Travels