As a parent, finding the perfect stroller can be a daunting task. There are so many options available on the market, each claiming to be the best. One brand that has caught the attention of many parents is Joolz, a trusted Dutch brand known for its high-quality and stylish strollers. In particular, the Joolz Aer stroller has been making waves as the first lightweight stroller from the brand. But is it really worth the hype?
When the Joolz Aer stroller was first released, I wasn't convinced. I had reservations about some of the design choices in their full-size strollers, and the initial release of the Joolz Aer lacked accessories, making it impractical for everyday use. However, with the availability of accessories and extra options, I decided to give it a try. And I must say, it quickly became our go-to stroller for travel.
The Pros & Minor Cons of the Joolz Aer Stroller
Let's start with the basics. The Joolz Aer is suitable for children from 6 months to 50 pounds, or from birth with a newborn cot attachment. It weighs only 13.4 pounds and folds down to a compact size of 21 x 18 x 9 inches. Its lightweight and compact design make it perfect for travel.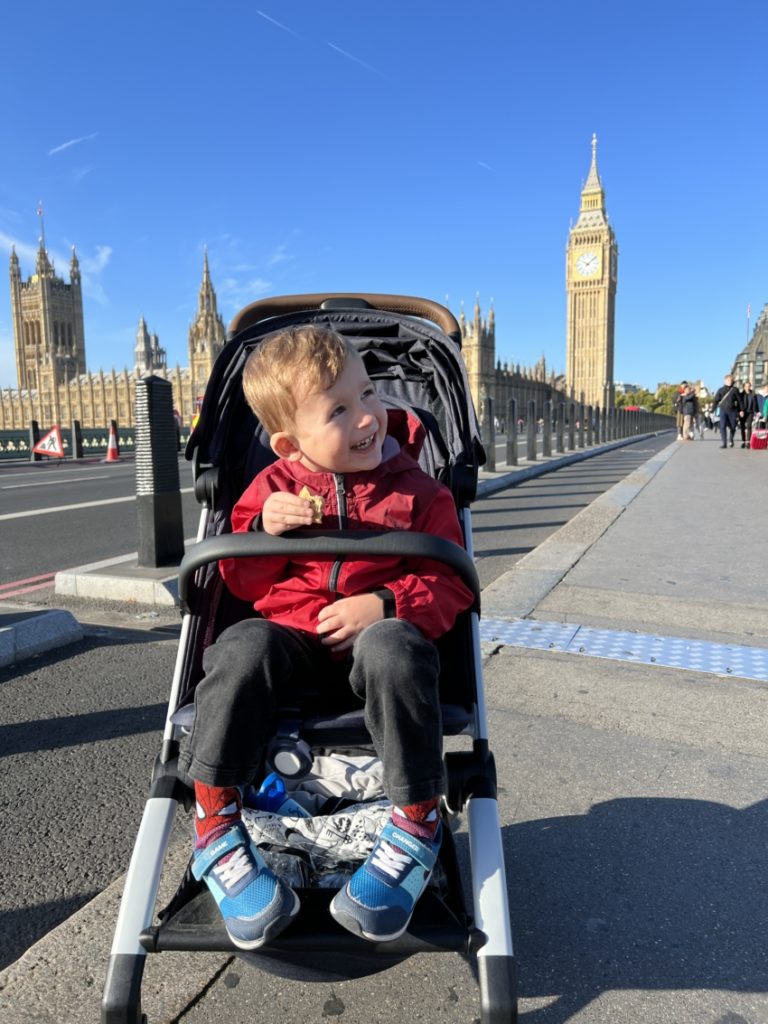 Now, let's talk about the new version: the Joolz Aer+. While the Aer+ offers some slight improvements, such as a slightly larger basket and a deeper recline, it may not be worth the upgrade if you already own the Joolz Aer. Furthermore, the Aer+ no longer comes with a rain cover, unlike the discounted standard version.
Maneuverability & Design
One of the standout features of the Joolz Aer is its compact design. It looks like a luxury full-size stroller but folds down to a small and lightweight package. It's perfect for parents who want to downsize from their larger strollers without compromising on style and quality.
The Joolz Aer comes fully assembled, ready to use straight out of the box. Its modern and durable design gives it a high-end feel that will last for years to come. Unlike other strollers, it remains in excellent condition even after being tossed around and dragged along.
Folding and Unfolding
One of the key features of any travel stroller is how easily it folds and unfolds. The Joolz Aer excels in this aspect, allowing for one-handed folding and unfolding. The seat is also sturdy and tall, providing ample storage space, which is a huge plus for a travel stroller.
However, it's important to note that the Joolz Aer does not fold with the bumper bar attached. This may be a drawback for those who rely heavily on the bumper bar. Fortunately, the new version, the Aer+, has a foldable bumper bar for added convenience.
Weight & Size
The Joolz Aer is impressively lightweight, weighing only 13.4 pounds. However, its size may be a concern when it comes to air travel. While it fits in most overhead bins, some airlines may consider it too large and require you to gate-check it. It's essential to familiarize yourself with the size restrictions of the airlines you frequently travel with to avoid any surprises.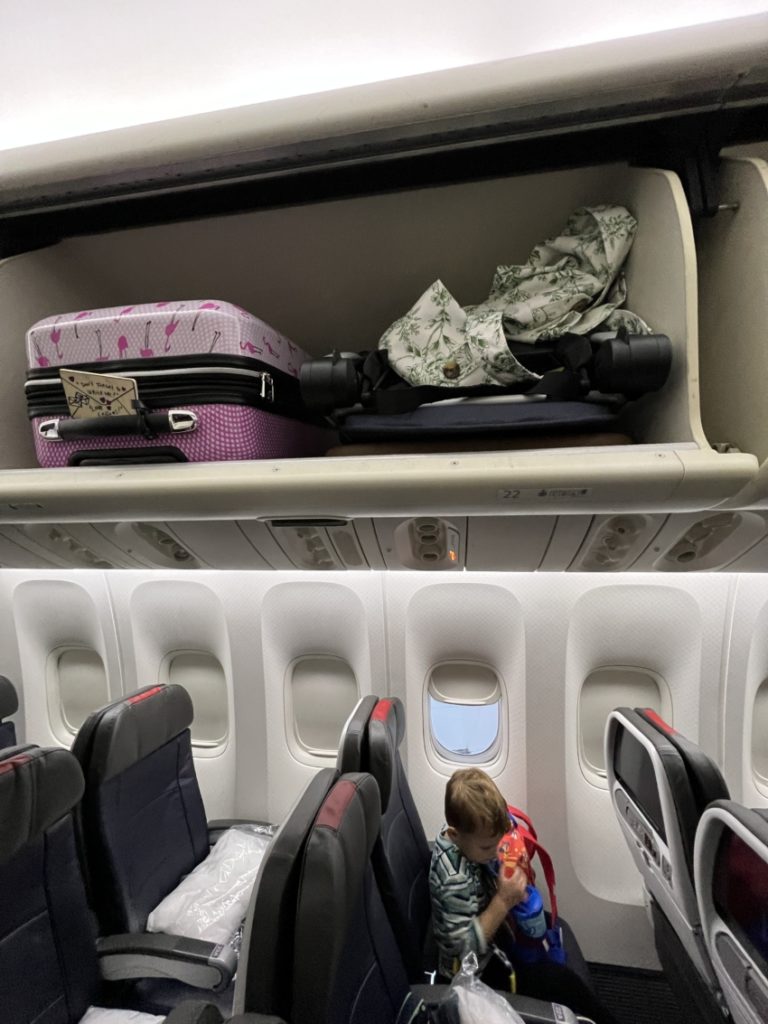 One of the times when the stroller fit – American Airlines intercontinental route
Storage Spaces
One of the standout features of the Joolz Aer is its spacious basket, perfect for holding your personal belongings and shopping bags. Unlike other strollers, the Joolz Aer has a solid basket, keeping your belongings dry and clean. Additionally, there is a small pocket behind the seat, providing convenient storage for essentials like your phone and keys.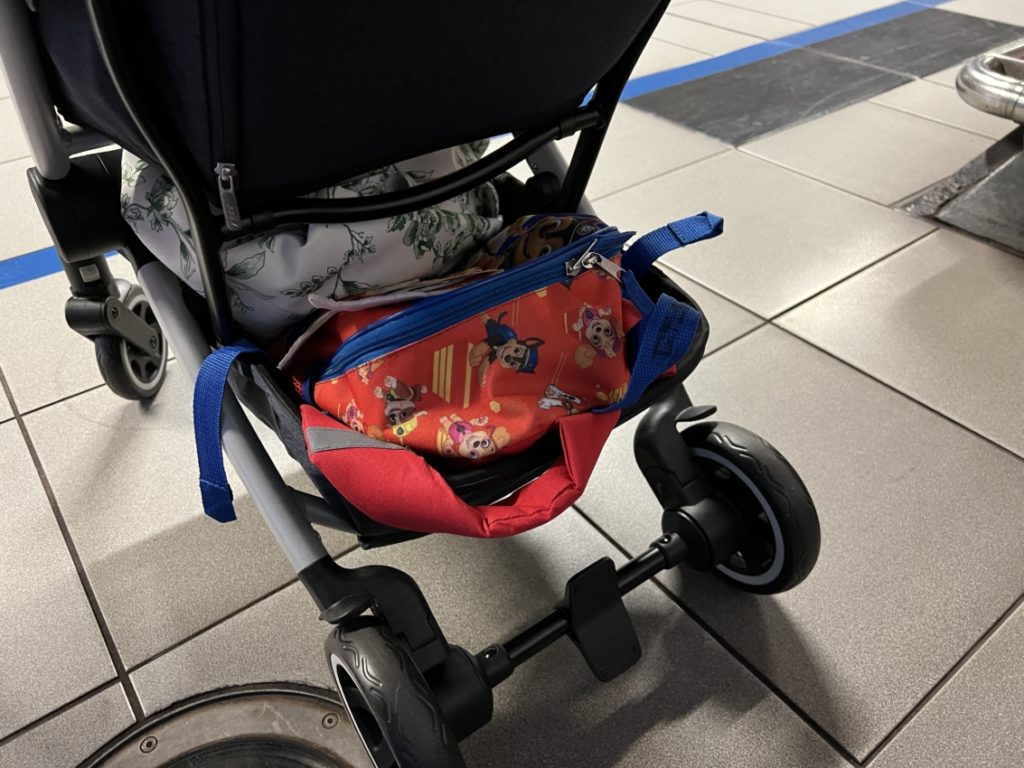 Seat Compartment, Recline & Canopy
The seat of the Joolz Aer is generously padded and comfortable, ensuring a pleasant ride for your little one. The high backrest is a standout feature, accommodating even taller children. However, the seat lacks depth and side protection, which may not be ideal for chunkier kids.
The harness of the Joolz Aer can be a bit tricky to figure out initially, but with some practice, it becomes easier to use. The recline function is operated by a zipper, allowing for easy adjustments. The seat also features ventilated mesh, making it suitable for summer use, and a large extendable canopy that provides UV50 protection.
Is Joolz Aer Suitable for a Newborn?
Initially, the Joolz Aer was not suitable for newborns, but with the addition of a cot attachment, it can now accommodate newborns. The stroller even folds with the bassinet attached, making it a convenient option for parents who want to avoid using car seats for extended periods.
Final Verdict
Overall, the Joolz Aer is a top contender when it comes to quality and style in the world of travel strollers. Its compact design, durability, and comfortable seat make it a great choice for families on the go. However, it's essential to be aware of the potential size restrictions when traveling by air.
If you're looking for a stroller for tall and/or older kids, the Joolz Aer is definitely worth considering. However, if airline restrictions and the recline mechanism are major concerns for you, alternative options like the Cybex Orfeo may be more suitable.