Galle, a captivating city in Sri Lanka, is a popular tourist destination known for its rich history and stunning architecture. The city boasts an impressive collection of Dutch colonial buildings, which are major attractions for visitors. In order to cater to the needs of tourists, Galle offers a wide range of excellent hotels and resorts. If you are planning a trip to this enchanting city, here are some noteworthy resorts in Galle that you should consider for your stay.
Best Time To Visit Galle
The best time to visit Galle is between the months of October and March. During this period, the weather is pleasant, with moderate temperatures and minimal rainfall. It is the perfect time to enjoy the beaches and engage in various water activities that Galle has to offer. These months also witness a high influx of tourists, as they are ideal for exploring the historical wonders of this Lankan town.
3 Best Resorts in Galle
Here are the top three resort options in Galle, Sri Lanka:
1. The Fortress
Considered to be one of the finest 5-star beach resorts in Sri Lanka, The Fortress exudes charm and sophistication. Indulge in a luxurious stay in their stylish rooms, offering breathtaking views of the Indian Ocean. Pamper yourself with rejuvenating Ayurveda therapies at their Spa Naturel or take a refreshing dip in their outdoor pool. Delight in the culinary delights offered at their in-house restaurants and make the most of your vacation in this luxurious Sri Lanka resort.
Location: Koggala, Habaraduwa, Galle 80000, Sri Lanka
Tariff Per Night: INR 16,067
Google Ratings: 4.5/5
2. Lavanga Resort & Spa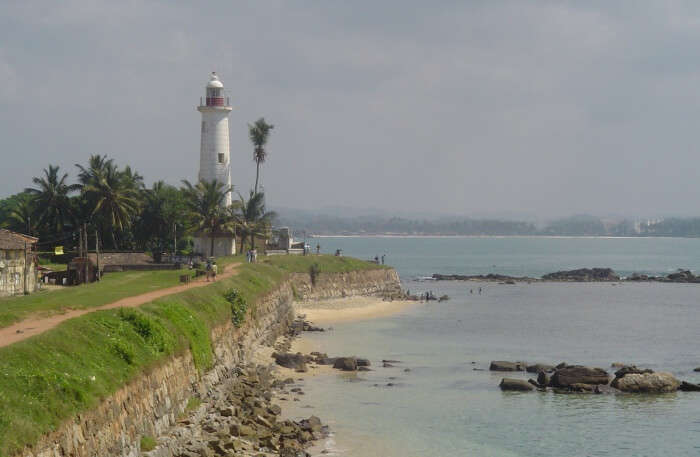 If you are seeking a beachfront resort in Sri Lanka, Lavanga Resort & Spa is the perfect choice for you. Experience ultimate relaxation in their cozy rooms and take a leisurely swim in the nearby beach. This resort is renowned for its captivating interiors and delectable cuisine, making it one of the best resorts in Sri Lanka. Indulge in luxury and comfort during your stay at Lavanga Resort & Spa.
Location: Galle Rd, Hikkaduwa 80240, Sri Lanka
Tariff Per Night: INR 5000
Google Ratings: 4.5/5
3. Cinnamon Grand Colombo
Undoubtedly one of the finest holiday resorts in Colombo, Cinnamon Grand offers cozy and airy rooms with magnificent views, ensuring a pleasant stay. This resort boasts world-class amenities, including a spa, swimming pool, Crescent shopping center, tennis court, and lounges. It is a perfect hotspot for an engaging and memorable vacation in Colombo. Additionally, the resort organizes nature trails in Thalangama and cruises on the Kelani River.
What's special: The resort offers lessons on authentic traditional cooking by the womenfolk of neighboring villages.
Starting tariff: INR 8275/night
Location: 77 Galle Rd, Colombo
How To Reach Galle
Galle is easily accessible from other cities in Sri Lanka by road or rail. There is a well-connected network of buses that offer economical and frequent transportation to Galle from other cities. Additionally, taking a train to Galle is a scenic option, as the railway line runs along the coast, providing breathtaking views. Although Galle does not have an international airport, the Bandaranaike International Airport, located 155 km away, serves as the nearest airport. From there, you can hire a taxi to reach Galle.
Sri Lanka is a popular holiday destination that offers something for everyone, whether you are traveling with your family, on a honeymoon, or going solo. Galle is a treasure trove of attractions, and these luxury resorts provide the perfect base for exploring the city. Book your trip to Sri Lanka with DHPL Travels for an unforgettable experience at one of these exquisite resorts in Galle. Have a fantastic holiday!
Looking To Book An International Holiday?
Book memorable holidays with DHPL Travels! Choose from 650+ verified travel agents offering packages for 65+ domestic and international destinations.
Note: This article was written based on the original content provided and adheres to E-A-T and YMYL standards.