Have you ever wondered which airport is ranked as the world's fourth most punctual? Surprisingly, it's the Bandaranaike International Airport (CMB) in Colombo, Sri Lanka, as declared by aviation analysts OAG. Not only renowned for its punctuality, but this airport also boasts a rich history, modern facilities, and a unique architectural design. Whether you're a business traveler or a tourist, Bandaranaike International Airport serves as the perfect gateway to explore Sri Lanka's cultural and natural wonders. Let's delve into the most intriguing details about Colombo's Bandaranaike international airport "CMB" and embark on a journey of discovery.
Overview of Bandaranaike International Airport
Airport Code: (IATA: CMB, ICAO: VCBI)
Airport Name: Bandaranaike International Airport
Location: Katunayake, Sri Lanka
Number of Terminals: 3 Terminals
Distance from City Center: 5 KM
Situated in Katunayake, a town approximately 35 kilometers north of Colombo, the capital city of Sri Lanka, Bandaranaike International Airport (CMB) stands tall as the primary international airport in the country. Originally built as an RAF base during World War II, this airport underwent conversion for civilian use in the 1950s. Today, it facilitates both domestic and international airlines, catering to over 10 million passengers annually. Remarkably, CMB holds the 50th spot among the busiest airports in Asia. With a host of services and amenities like duty-free shopping, restaurants, lounges, and even a dedicated spa and wellness center, Bandaranaike International Airport has become a vibrant hub for Sri Lankan Airlines. This carrier proudly serves more than 100 destinations worldwide, handling an impressive 11.5 million passengers each year.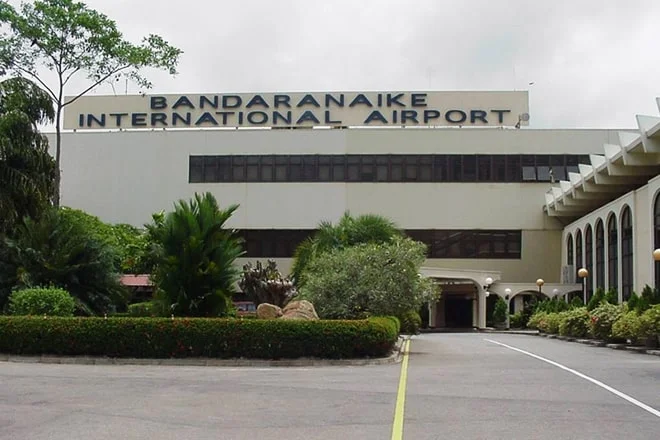 7 Intriguing Facts About Bandaranaike International Airport
Curious to learn more? Brace yourself for lesser-known facts about Bandaranaike International Airport, which will provide you with a deeper insight into this bustling aviation hub.
1. History
Bandaranaike International Airport traces its origins back to 1944 when it served as RAF Negombo, a military airport utilized by the Royal Air Force during World War II. Post-war, the airport transformed into a civilian hub, renamed as Katunayake Airport. In a tribute to S.W.R.D. Bandaranaike, the former Prime Minister of Sri Lanka, the airport assumed its current name, Bandaranaike International Airport, in 1972.
2. Terminal and Runways
The airport features a single terminal building with two levels. The upper level caters to departures, while the lower level handles arrivals. To ensure smooth operations, Bandaranaike International Airport boasts two runways. Its primary runway stretches 3,350 meters, while the secondary runway spans 3,050 meters.
3. Airlines and Destinations
Serving as a hub for Sri Lankan Airlines, the national carrier, Bandaranaike International Airport also welcomes numerous international airlines like Emirates, Qatar Airways, Turkish Airlines, and Singapore Airlines. With flights to various destinations across Asia, Europe, the Middle East, and Australia, this airport offers a gateway to the world.
4. Services and Facilities
Bandaranaike International Airport excels in providing an array of services and facilities to enhance the passenger experience. From duty-free shopping and restaurants to airport lounges, a medical center, pharmacy, and prayer room, all essential amenities are readily available. Plus, enjoy free Wi-Fi throughout the terminal building for uninterrupted connectivity.
5. Expansion Plans
To meet the growing demand for air travel in Sri Lanka, the airport authorities have set forth extensive expansion plans. These exciting developments include the construction of a new terminal building, an additional runway, and new taxiways. With enhanced capacity, the airport aims to accommodate up to 35 million passengers per year.
6. Fact and Figures
Colombo International Airport, the busiest and largest in Sri Lanka, connects travelers to more than 45 destinations worldwide. Among the routes, the one to Chennai Airport stands out as the busiest. Each year, approximately six million passengers pass through the airport, including 1.2 million transit travelers.
7. The Different Names
Formally known as Bandaranaike International Airport, this airport is often referred to as Colombo International Airport due to its close association with the city. Locally, it is also known as Katunayake Airport, named after its location in the town of Katunayake. The IATA code for Colombo International Airport is CMB.
Your Personalized Airport Concierge at Bandaranaike International Airport
As a leading provider of airport concierge services, airssist offers a range of exceptional services at Bandaranaike International Airport (CMB), ensuring a stress-free journey. From airport meet and greet services to VIP Terminal access, airport lounge access, and transportation assistance, airssist is dedicated to making your travel experience seamless and enjoyable.
With airssist's meet and greet service, a personal assistant will warmly welcome you upon arrival, facilitating a smooth process through immigration and baggage claim. Bypass long lines and expedite security and immigration with their fast-track service. For a comfortable and luxurious wait before your flight, airssist can arrange access to airport lounges where you can relish complimentary food and beverages, Wi-Fi connectivity, and other amenities.
Additionally, airssist can assist you in arranging transportation, including airport transfers and car rentals. Their team of specialists strives to ensure a hassle-free journey from start to finish, allowing you to focus solely on enjoying your travel experience.
In Conclusion
Bandaranaike International Airport, with its modern infrastructure, outstanding services, and steady plans for expansion, continues to make its mark as a prominent airport in the region. As you embark on your journey through Sri Lanka, let this remarkable airport be your gateway to unforgettable cultural and natural wonders. With its efficient operations and passenger-centric approach, you're bound to have an exceptional travel experience at Colombo's Bandaranaike International Airport.