A teardrop-shaped island located in the middle of the Laccadive Sea, Sri Lanka offers a perfect mix of relaxation and adventure. If you're planning your first trip to this beautiful island and dreaming of waking up to the sound of crashing waves, keep reading for our hand-picked selection of the finest beachfront villas, suitable for every budget. Plus, we'll share some exciting things to do in the surrounding areas!
Mirissa: A Beach Paradise
Mirissa, a vibrant beach town, is home to some of the most breathtaking beaches in Sri Lanka. During low tide, you can explore the mesmerizing rock pools and feel the wet sand between your toes. The town also offers a variety of souvenir stalls and hawker shops, perfect for shopping enthusiasts.
Experience Luxury at Villa Pointe Sud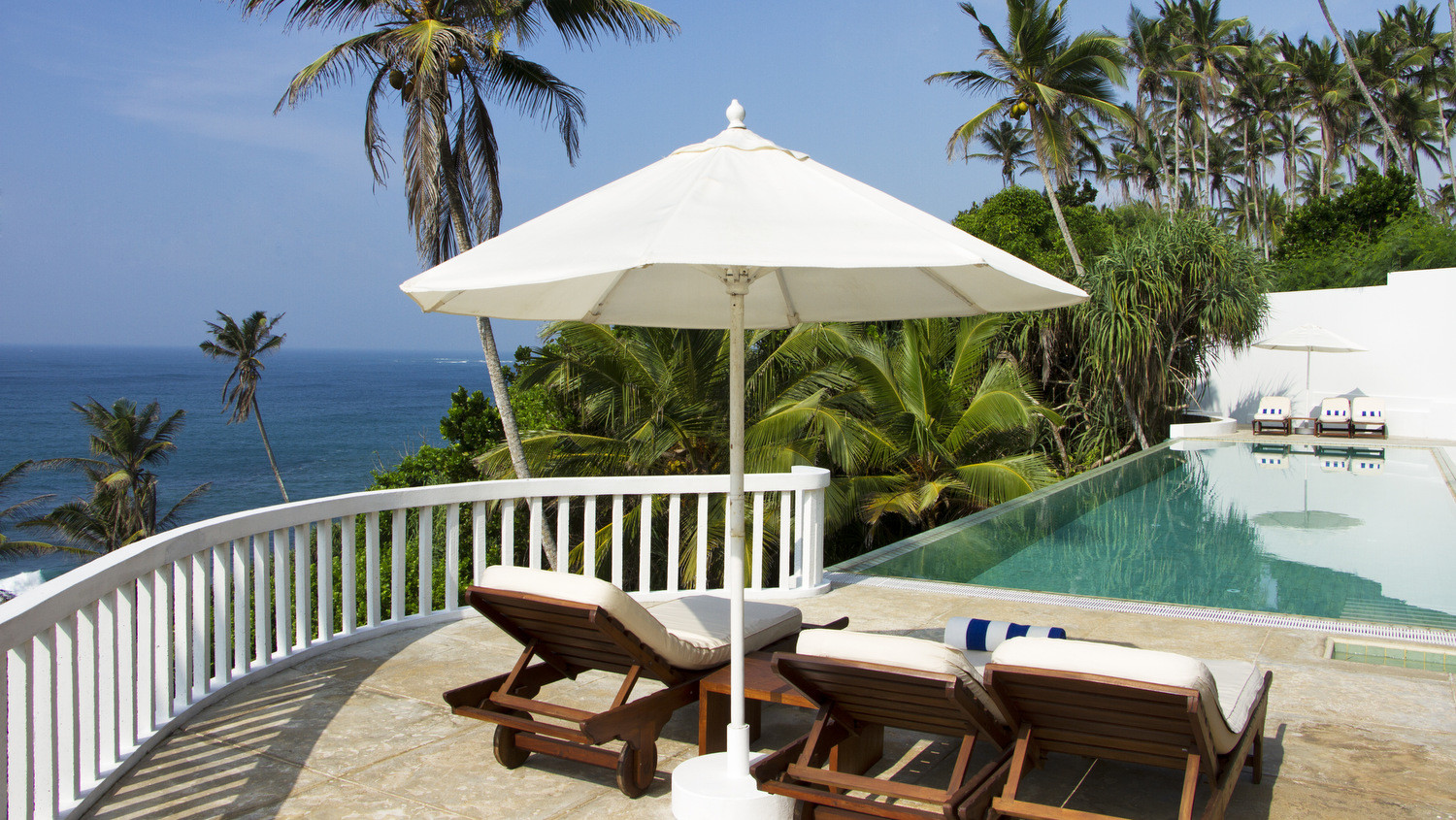 Located in Mirissa, Villa Pointe Sud is a magnificent two-level retreat with five spacious bedrooms. Nestled amidst lush tropical foliage, this villa offers direct access to a private stretch of beach – an idyllic paradise for sun-seekers. Enjoy daily housekeeping and relax in the outdoor lounge with sweeping views of the ocean.
Things to do nearby
Dance the Night Away at a Beachfront Pub
After exploring the vast grounds of Villa Pointe Sud, head to Mirissa Eye, a lively beachfront pub known for its energetic atmosphere and lively DJs. Sink your toes in the sand, sip on delicious cocktails, and feast on mouthwatering Mahi Mahi and fresh seafood.
Let Your Worries Melt Away at the Spa
Unwind and embrace a Zen-like experience at the Secret Root Spa, located just a short drive from Villa Pointe Sud. Indulge in a 'Shirodara' Ayurvedic Head Treatment followed by a blissful head massage. Afterward, detoxify your body with an Herbal Steam-bath.
Explore Reptiles and Enjoy Family-Friendly Activities
For a unique family experience, visit the Sri Lankan Snake Farm, a short drive from Villa Pointe Sud, or explore Adventure Park: Jungle Playground Mirissa. The park offers 14 exciting adventures, including climbing and mini-golfing. Take a leisurely stroll through the jungle and discover the fascinating flora and fauna with your loved ones.
Looking to avoid monsoons? Visit Sri Lanka between January and March for dry and sunny days and the opportunity to immerse yourself in local cultural celebrations like the Pongal Festival.
Galle: A Historical Gem
Situated 120km from Colombo, Galle is a charming city on Sri Lanka's southwestern coast. Perfect for family holidays, Galle offers diverse attractions, including UNESCO-recognized sites. Indulge in delectable cuisine and choose from an array of accommodation options.
Villa Ambalama: Luxury with Ocean Views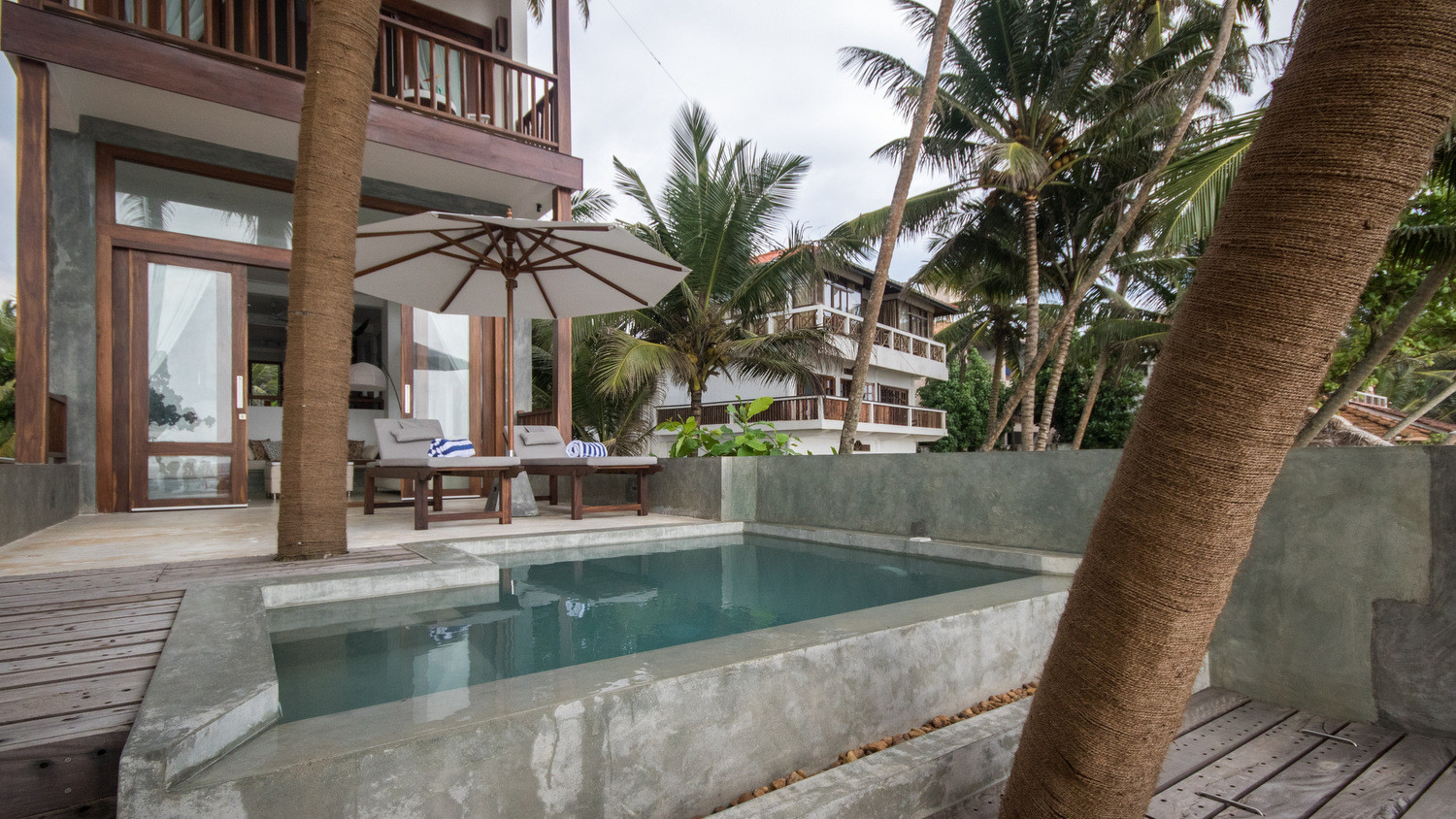 Located near the UNESCO World Heritage Site of Galle, Villa Ambalama is a luxurious retreat boasting stunning views of the Indian Ocean. With four bedrooms, a swimming pool, and barbecue facilities, this villa is an oasis of relaxation. Enjoy the spacious interiors, modern kitchen, and dine on the patio while soaking in the breathtaking sea views.
Skinny Beach House: Serenity by the Ocean
In Galle, discover the tranquil Skinny Beach House, a two-bedroom villa perfect for smaller groups. Embrace serenity as you relax on the beach with a good book. Enjoy the services of a house manager, Bluetooth speakers, and high-speed internet. This kid-friendly villa provides extra amenities like highchairs and cots, ensuring a stress-free family holiday.
Things to do near the villas
Explore the Marine Archaeological Museum
After visiting the museum, satisfy your hunger at Coconut Sambol, a budget-friendly restaurant offering local dishes, gluten-free options, and vegan choices. Experience a traditional Sri Lankan meal served on a freshly plucked banana leaf, all for less than $5.
Indulge in a Local Feast
Experience Sri Lankan cuisine at its finest at Wiener Dschungel, a popular restaurant known for its generous portions. Sit outdoors and enjoy delicious seafood dishes while basking in the warm sunshine by the beach.
Relax by the Galle Fort Lighthouse
Capture Instagram-worthy moments at the iconic Galle Fort Lighthouse, an ancient structure providing a perfect picnic spot. Engage in recreational activities like cricket or kite-flying while enjoying mesmerizing sunsets over the ocean.
Ahangama: A Tranquil Haven
Ahangama, a small and peaceful town, offers a blend of stunning beaches and ancient architecture. Experience calmness in this remarkable destination, which boasts some of the best beachfront villas in Sri Lanka.
Villa South Point: Colonial-style Luxury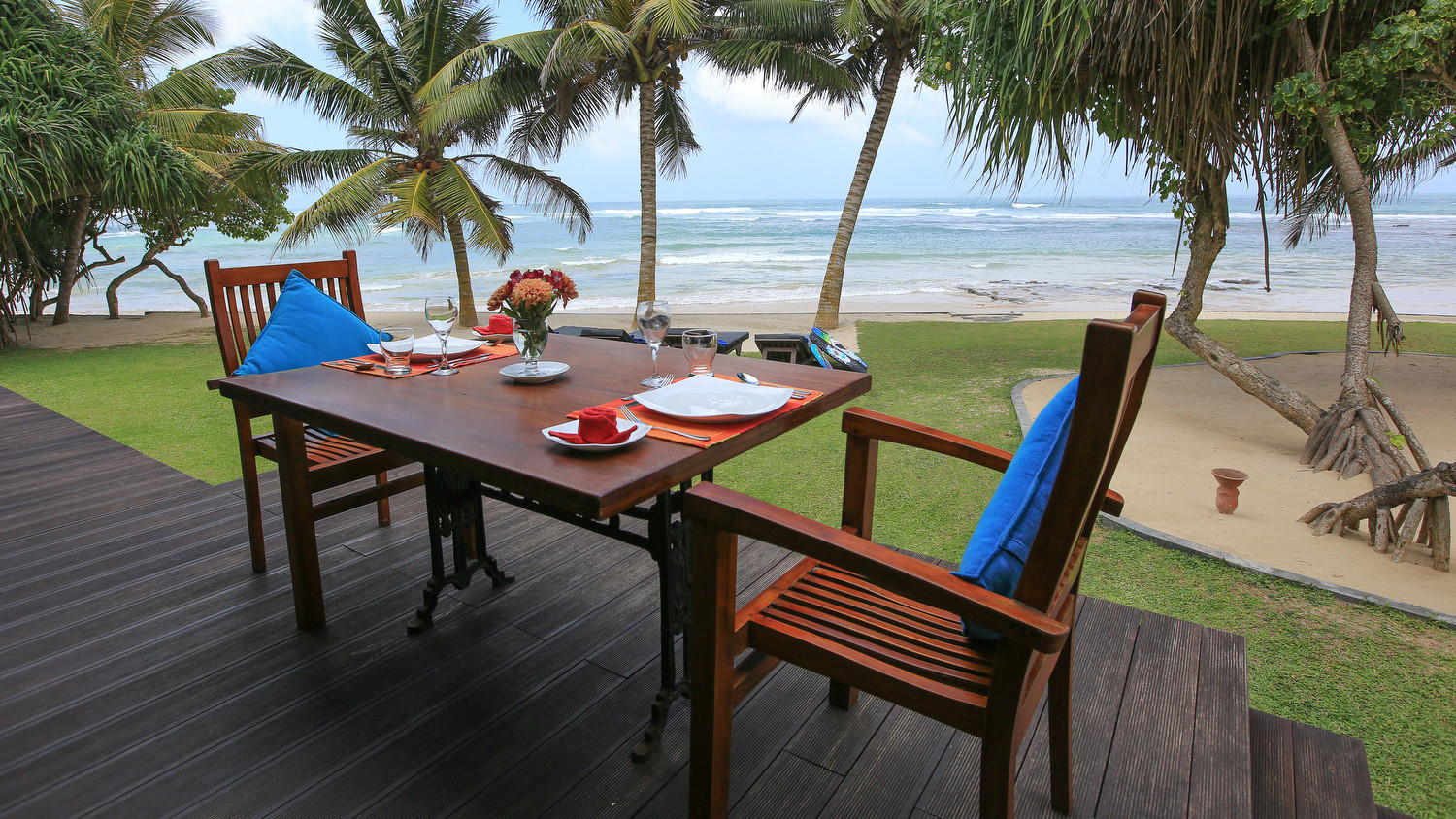 Nestled in Koggala, Villa South Point is a majestic villa with three bedrooms and a unique fusion of Dutch colonial and British architecture. Immerse yourself in the lush tropical gardens and unwind by the ocean-facing infinity pool. Benefit from the services of dedicated staff, including housekeepers, a gardener, and a private chef.
Villa South Point Ocean: Rejuvenation and Luxury
For larger groups, Villa South Point Ocean offers eight bedrooms across three floors. Indulge in colonial-style luxury and relax in the beautifully manicured gardens. The villa features a gleaming pool with stunning ocean views, creating an ambiance of pure relaxation. Explore nearby attractions and enjoy al-fresco dining with your loved ones.
Things to do near the villas
Discover Koggala's Many Attractions
Visit the surfing spots of Ahangama and relax on pristine Koggala Beach, where you can witness local fishermen gathering their daily catch. Explore the Koggala Sea Turtle Farm & Hatchery, a non-profit organization dedicated to the conservation of turtles. Marvel at the ancient rock temple of Mulkirigala and experience the historical heritage of Sri Lanka.
Embark on the Tea Route
Take a tour of the Handunugoda Tea Estate, where you can stroll through the plantation and learn about different types of tea. Indulge in complimentary tea and chocolate cake while enjoying the serene surroundings. Don't forget to bring home your favorite tea blends, including the prized virgin white tea.
Uncover Ancient Architecture Before Lunch
Explore the Kathaluwa Old Temple and admire the intricate carvings of this beautifully refurbished 13th-century structure. Afterward, treat yourself to a delicious Sri Lankan meal at Wiener Dschungel, known for its exceptional local cuisine and delightful beachfront location.
Tangalle: A Nautical Paradise
Tangalle, located in Sri Lanka's southern point, offers a perfect blend of pristine beaches, national parks, and delectable seafood. Immerse yourself in the excitement of various water-based activities and indulge in the natural beauty of this coastal gem.
Ranna Beach Villa: Beachfront Paradise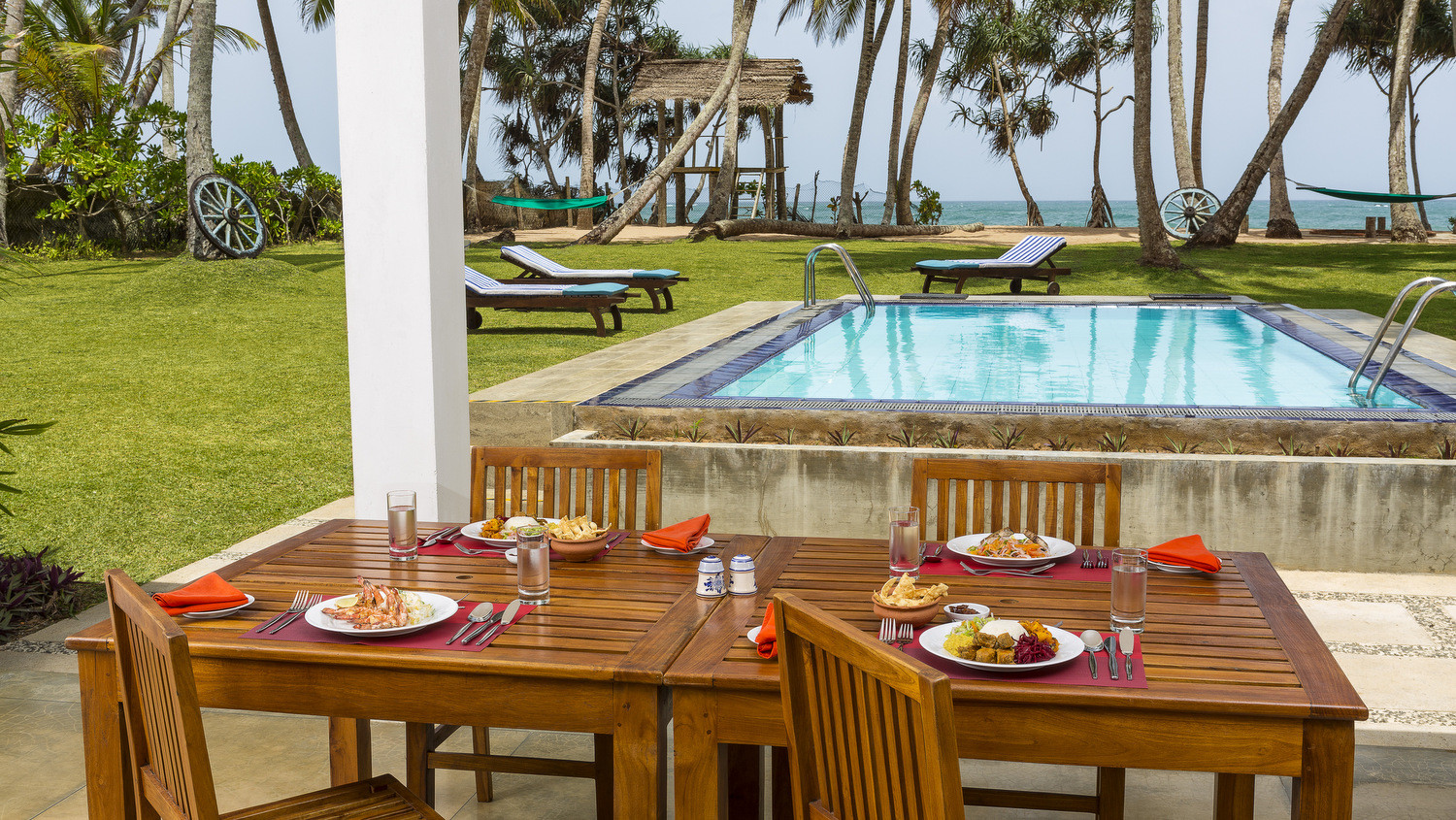 Fringed by the Indian Ocean, Ranna Beach Villa is a luxurious retreat with three bedrooms. Just 50m from the ocean, this villa offers a large garden, dining and living areas, and an infinity pool with sweeping lagoon views. Enjoy queen-sized poster beds, air conditioning, and excellent housekeeping services. Additional amenities like car rental, massages, and laundry services are also available.
Things to do near the villa
Browse Through the Tangalle Town Center
Visit Tangalle Town Center for souvenir shopping and relax at one of the charming family-owned cafes. Explore the Mulkirigala Rock Temple, featuring ancient wall paintings and statues. Climb to some of the temple's areas for a deeper experience (note: it requires physical exertion).
Grab Your Surfboards and Hit the Waves
Experience the exhilarating surfing spots in Unakuruwa, where majestic waves await both amateur and professional surfers. Afterward, enjoy a snack at Moon River, a small beachside restaurant with a cozy atmosphere.
Take a Tour of Amanwella Silent Beach
Venture off the beaten track and discover the serenity of Amanwella Silent Beach. Enjoy fishing and snorkeling in the calm waters or indulge in a picnic surrounded by golden sands and coconut palm trees. Savor refreshing drinks from the beach shack and immerse yourself in the beauty of this hidden gem.
Sri Lanka with Kids
If you're traveling with your family, check out our list of family-friendly villas for a comfortable and enjoyable stay. We also provide a guide to family-friendly activities in Sri Lanka, ensuring that your little ones are entertained throughout your vacation.
For an unforgettable beachfront experience and a chance to explore the best of Sri Lanka, choose from our hand-picked villas. Book your dream vacation now with DHPL Travels and create everlasting memories on this beautiful island.